LEED Silver Goes to Wright-Patterson Air Force Base Gate 26A
Woolpert, emersion DESIGN and Messer Construction created this environmentally efficient entrance to Wright-Patterson Air Force Base's Commercial Entry Control Facility and earned a LEED Silver from USGBC.

Wright-Patterson Air Force Base Gate 26A recently was awarded LEED Silver certification from the U.S. Green Building Council. Architecture for the gate was provided by emersion DESIGN, engineering and landscape architecture were performed by Woolpert, and Messer Construction was the contractor. The project was completed in 2019.
The Commercial Entry Control Facility gate provides an enclosed commercial vehicle inspection area, an overhead canopy to yield a covered vehicle checkpoint for security staff, advanced inspection capabilities, and an intersection and traffic signal to improve gate management and relieve traffic congestion. The gate replaced the commercial vehicle inspection station at Gate 16A off Ohio 444 and the existing Gate 26A off Ohio 235.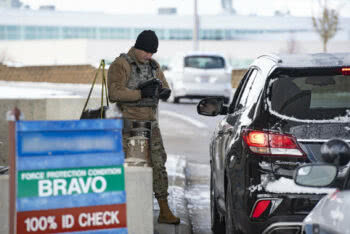 John Van Winkle, 88th Air Base Wing Public Affairs noted that the new gate opened Nov. 18 for commercial and passenger vehicles at Wright-Patt's Area A. It is open weekdays 6 a.m. to 6 p.m., for both commercial and passenger vehicles, and also on Saturdays from 6 a.m. to 2 p.m., for commercial vehicles only.
The award-winning gate is located off State Highway 235, known as North Central Avenue, at the first traffic light north of the highway 235/Central Avenue and State Highway 444/Broad Street intersection in Fairborn. Highway 235 is a divided four-lane highway at that traffic light for Gate 26A, with a single dedicated turn lane going in each direction, i.e. the left lane is a dedicated turn lane for north bound traffic and the right line is the dedicated turn lane for south bound traffic.
Base officials advise drivers to plan additional travel time in their commutes when first using the new gate in order to familiarize themselves with the new traffic flow, as the gate will handle both passenger and commercial vehicles.
Commercial vehicle inspection operations have ceased at Gate 16A, with the opening of the new inspection facility at Gate 26A.
Wright-Patterson Air Force Base is located northeast of Dayton, Ohio, and encompasses parts of Greene and Montgomery counties. The base has a rich aviation heritage. The pioneering work of Orville and Wilbur Wright from 1899 to 1903 enabled them to achieve the first manned, powered flight. After their success at Kitty Hawk, they returned home to Dayton, Ohio, where in 1904 and 1905 they perfected their flying skills while turning the Wright Flyer into the first practical airplane capable of fully-controlled flight. They accomplished this work at the Huffman Prairie Flying Field, now a part of Wright-Patterson Air Force Base. From 1910 to 1916 the brothers operated a flying school at Huffman Prairie. Among their 119 students were Henry "Hap" Arnold who commanded the Army Air Forces in World War II, and H. Roy Brown, the Canadian ace who was credited with shooting down the Red Baron in World War I.
"This gate improves functionality for Wright-Patt staff and guests, while ensuring security remains at a premium—and all within green building standards," Woolpert Project Manager Joe Bissaillon said. "By teaming with Messer and emersion on this design-build project, we know we are efficiently and cost-effectively providing the base with the optimum infrastructure and providing the community with healthy, sustainable design."
__________________________
About Woolpert. Woolpert is committed to a vision to become the premier architecture, engineering, geospatial (AEG) and strategic consulting firm, and one of the best companies in the world. It's a vision we've been fine-tuning for decades. It guides our decisions and investments, provides our clients with optimal solutions and offers our employees unrivaled opportunities. Woolpert is recognized as a Great Place to Work by its employees and is America's fastest-growing AEG firm. With more than a century of experience, close to 1,000 employees and 30 offices, Woolpert supports public, private, federal, and U.S. military clients nationally and around the globe.
About emersion DESIGN. emersion Design's goal is to do business with people who believe what they believe. The firm does this by providing thoughtful, sustainable value through professional services in architecture, planning, interior design, structural engineering, and sustainability consulting for clients interested in strategic quality design. They are based in Cincinnati, Ohio.
About Messer. Frank Messer & Sons, Inc. was founded by Frank Messer in 1932 and today, as Messer, is ranked #43 on the ENR Top 100 construction management-at-risk firms. Their construction management approach enables them to become an extension of their clients, including in-house cost planning and estimating, design-build services in health care, higher education, public, military, and commercial facilities, as well as serving as a construction management agency doing more than $300 million worth of construction in the last five years. They are based in Cincinnati, OH with offices throughout country.