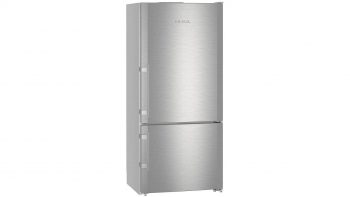 LIEBHERR's CS-1400R Fridge/Freezer Combination Offers Ideal Fit for Small Spaces
LIEBHERR's CS-1400R refrigerator-freezer combination is the perfect choice for a smaller footprint of installations with upper cabinets. Features such as adjustable glass shelves, gallon holders to maximize space, and a stainless back wall make the interior of the unit as appealing as the beautiful exterior's ergonomic handles, beveled edges, and easy-to-clean SmartSteel finish.
The CS-1400R's Energy efficient LED lighting takes a starring role by illuminating the main compartment, and unique integrated LED lights sit on the bottom of the refrigerator door to shine down into the freezer drawers when opened. Durable yet elegant, the GlassLine door racks easily accommodate a large supply of milk or juice on hand.
An intuitive electronic touch control panel ensures all functions are easy and convenient to use, as well as guarantees that the settings selected remain accurate and constant.
Special Product Technologies:
DuoCooling: The dual refrigeration system creates optimal conditions in both the refrigerator and freezer which lengthens the shelf life of food items for a healthier lifestyle. This technology also preserves the flavor and texture of foods since there is no transfer of unwanted air, moisture, or food aroma between the two compartments.
SuperCool/SuperFrost: Simply quick chill and/or freeze fresh groceries to preserve optimum freshness and seal in flavors, textures as well as maintain essential vitamins and minerals.
SuperQuiet: Noise is kept to a minimum with virtually silent, speed-controlled compressors and low-noise cooling circuit; while also ensuring exact performance, energy efficiency and SuperQuiet operation.
SoftSystem: Unique to Liebherr is the patented SoftSystem, often used in high-end cabinetry, ensures that the door closes gently, even when fully loaded. Plus, the door opening angle can be reduced to 90 degrees allowing for more design options within kitchen décor.
SmartSteel: Available on select freestanding/semi built-in models, SmartSteel significantly reduces the visibility of fingerprints and is very easy to clean and scratch resistant. All that is required to maintain the beautiful exterior is the wipe of a clean dry or damp cloth.
Stainless Back Wall: The high-quality, stainless back wall is both eye-catching and highly functional. The stainless wall prevents foods from freezing up against the evaporator, ensuring that the back of the refrigerator is always drip and ice-free. Ventilation slits also help guarantee optimum temperature distribution.
Product Specifications:
Refrigerator Capacity: 9.8 Cu. Ft.
Freezer Capacity: 3.5 Cu. Ft.
Total Capacity: 12.8 Cu. Ft.
Bulb Type: LED
Shelf Material: Glass
Counter Depth: Yes
Crisper Bins: Yes
Gallon Door Storage: No
Height: 66-3/16″
Depth: 24-13/16″
Width: 29-9/16″
Amperage: 2A
Voltage: 115V
About LIEBHERR
The Liebherr Group is a family-run technology company with a broadly diversified product portfolio, which includes a total of thirteen product segments. The creative exchange between the segments promotes the development of innovations and visionary technologies, fascinating products and services, which make a real difference. Liebherr aims to inspire their customers with all their solutions. In doing so, the limits of what was previously feasible are being redefined time and time again, meaning Liebherr often also contributes to the technological progress.