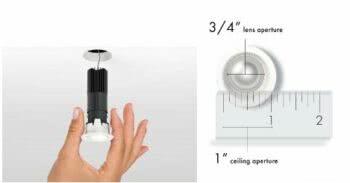 LittleOnes™ by USAI Lighting Advances LED Technology into New Era of Tiny Fixtures with Unmatched Power and Flexibility
(NEW WINDSOR, NY) Award-winning LED manufacturer USAI Lighting has launched the LittleOnes™– the first collection of tiny, barely noticeable, architectural grade recessed ceiling light fixtures that can deliver over 1000 lumens and be installed and serviced from below the ceiling. These miniscule LED products provide unmatched power and flexibility, allowing for homes, offices and public spaces alike to be flooded with light and create a naturally bright, well-lit environment with none of the glare and distracting visual of larger fixtures traditionally required for these light output levels.
"We are very proud to have catapulted the industry to new limits with the engineering breakthrough that is the LittleOnes," said Bonnie Littman, president and CEO of USAI Lighting. "It is now possible to beautifully and evenly light any room with fixtures the size of a quarter capable of delivering more light than the larger unsightly 6" diameter fixtures still widely used today and require extensive renovation to install."
The LittleOnes™ is a complete, full family offering of light fixtures, all with apertures of less than one inch – including fixed downlights, adjustable accents, and wall washers – and all family members feature superior optical design with smooth distribution, excellent uniformity, best-in- class glare control. This collection provides a complete toolbox for interior designers, architects, and architectural lighting specifiers that meets the requirements for nearly any project:
Full ceiling to floor wall wash from less than 1" aperture achieved through a patented 5-part optical system
Adjustable and dimmable lights
Square and round wall wash options
Ability to spotlight artwork or areas of interest without scalloping shadows or backlight
Ability to beautifully illuminate large areas with off-the-chart comfortability by industry UGR measurements
The LittleOnes™ makes it easier than ever to choose top quality lighting systems with a minimalist aesthetic for all spaces — commercial, hospitality, healthcare, residential and more — all with the remarkable ability and ease of servicing from below. The collection begins shipping in July, and pricing starts at under $100/ fixture. Four fixtures light a 100 square-foot space.  To learn more about this collection and other new products, visit www.USAILighting.com.
About USAI Lighting
Building on a rich heritage in lighting that dates back to the 1930s, USAI Lighting is an industry leader in manufacturing sophisticated LED fixtures. USAI Lighting has received numerous patents for its proprietary and unique electrical and mechanical product technologies. The company takes pride in developing its sources as well as its fixtures—not only the light engines, but also the optics and thermal management, and in ensuring dimming system compatibility through rigorous engineering testing and product development. Each new product the company introduces to the architectural lighting market pushes the boundaries of what's possible in LED research & development, a forward-thinking approach that has resulted in a stream of industry firsts and awards. For additional information, visit www.usailighting.com.