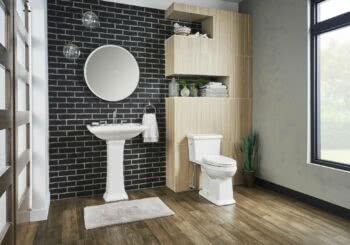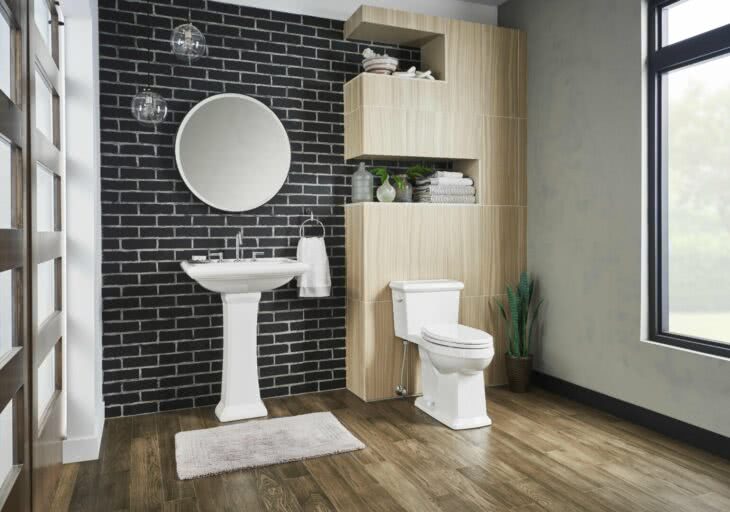 Logan Square Becomes Best Selling Decorative Toilet/Sink Collection for Gerber® Plumbing Fixtures
Woodridge, IL. – Gerber® Plumbing Fixtures has several decorative toilet and sink collections named to honor its Chicago-based heritage. The company has successfully showcased the vibe of a variety of communities in the city, matching collections with the special ambience each neighborhood has to offer. A recent addition to the Logan Square™ collection has led to it becoming the best selling decorative family Gerber manufactures.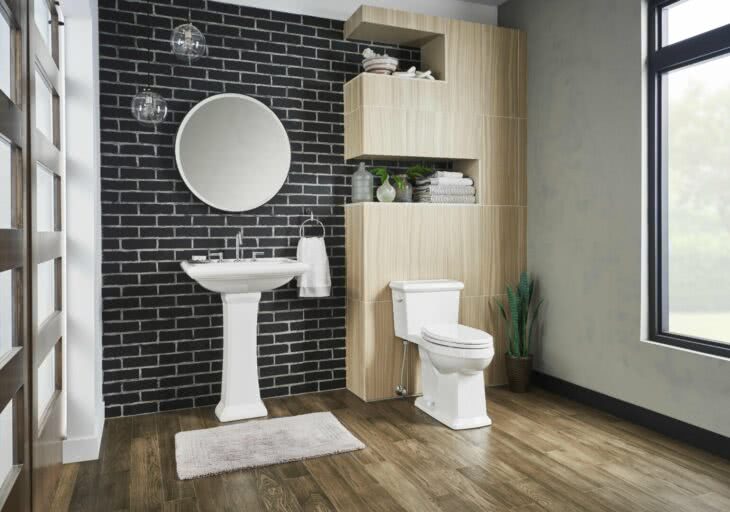 Last year Gerber introduced a one-piece Logan Square toilet with a concealed trapway that provides a cleaner and more upscale look than its two-piece counterpart. The new addition qualifies as a fully certified EPA WaterSense™ product with a MaP® score of 1000 grams, and low water consumption of 1.28 gallons per flush. Those factors have made it more appealing to consumers and plumbers.
"We decided to acknowledge some Chicago neighborhoods and areas as a tribute to our heritage and the Gerber-Lewis family who made Chicago their home," remarked Kevin McJoynt, Gerber's Director of Product Management – Fixtures. "When we designed the Logan Square collection, its traditional styling appeared to be a good match for the older, more traditional feel you'll find in the Logan Square neighborhood. It's a well-kept older area that is known for its classic bungalows, stately greystones and wide boulevards."
The Logan Square area is located on Chicago's Northwest side, not far from downtown Chicago. It was originally developed in the 1830s and today is home to a diverse population. The beautiful, park-like boulevards McJoynt mentioned are part of the 26-mile, landmark-designated Chicago Boulevard System, which connects residents to trails and historic commercial and residential buildings.
"This collection is really a charming, traditional style," said McJoynt, who indicated the layered rectangular angles look great with matching sinks. "It's versatile and fits in any traditional bathroom for new construction, remodeling or renovation."
Exceptional performance and reliability contribute to the popularity of the Logan Square collection. Its performance is enhanced with a 3" flush valve, a FluidMaster® fill valve, the fully glazed concealed trapway and a dual siphon jet for maximum bowl clearing. Both the one and two-piece toilets are available with matching pedestal or drop-in sinks, and the standard height or taller, ADA-compliant elongated bowls are sold in White or Biscuit colors. For more information, visit gerber-us.com.
About Gerber® Plumbing Fixtures
For nearly a century, Geber has manufactured tried and true, high-quality kitchen and bathroom plumbing products. Each team member in the Gerber family delivers on our commitment to providing dependability reflected in both our products and customer care throughout North America. We earn the trust of trade professionals and homeowners alike who find value in products that have both style and substance – performing without exception for years to come, all while being surprisingly affordable. Gerber's comprehensive offering of plumbing solutions is created with the entire experience in mind, from easy installation to reliable everyday use, and is supported by Gerber's industry-leading warranties. As a partner in the U.S. EPA WaterSense® program, Gerber is committed to protecting the environment through resource conservation, and creating high-efficiency and eco-friendly products. For more information visit gerber-us.com or call 866-538-5536.