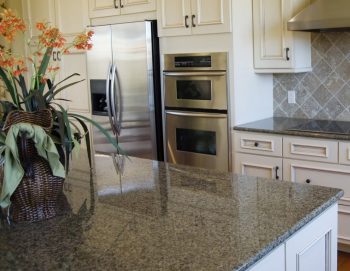 LuxROCK™ Solid Surface Granite Countertop Kit Revolutionizes Kitchen Surface Upgrades
Hamilton, ON – With supplies and labor shortages at all time highs, Daich Coatings has introduced a product that makes life easier for contractors. The new LuxROCK™ Solid Surface Granite Countertop Kit adds a smooth, granite surface over countertops, tables and vanities. Now available nationwide, the kit covers 40 square feet of space and retails for just $299. An introductory price of only $239 for the kit is available until April 30, 2022.
"Forget about waiting weeks or months for real granite or stone specialists," says Peter Daich, president of Daich Coatings. "This easy four-step DIY process totally revolutionizes how contractors can sidestep costly and complicated processes of adding real granite or solid surface slabs to their projects.
"Using the items in the kit, any existing flat surface can be upgraded in just two days. The result is a luxurious new stone surface that looks and performs just like real granite."
According to Daich, the high-end appearance of the finished product has a smooth richness that rivals a professional granite countertop installation, at just a fraction of the price. The revolutionary LuxROCK product is available now on the Daich Coatings website with free shipping and will soon be available through major retailers.
Roll On Real Granite Richness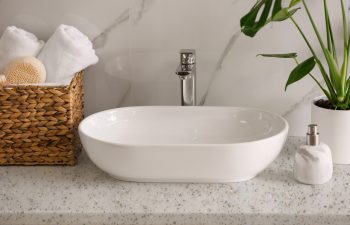 Each LuxROCK Solid Surface Granite Countertop Kit includes a prime coat, stone coats, clear epoxy and a clear coat finish. Tools needed for the project are included in the kit.
"LuxROCK is a functional and decorative blend of real stone, with stunning mineral highlights," says Daich. "This project is exceptionally easy, and you don't need any artistic or technical skills to make the resurfacing project a success.
"The best thing is that this is an extremely economical way to get authentic granite surface tops without the exorbitant price of installing slabs of granite. There's no long wait time or messy construction with this kit. This is a fast way to make progress on a project and impress your clients."
Named after real granite stones, the colors available in the LuxROCK kits include Galaxy Black, Platinum White, Basalt Mist (a dark gray), Crystal Quartz (a light gray) and Carrara (a creamy beige).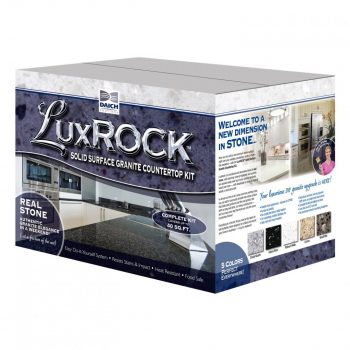 Saving Time and Hassle
"LuxROCK is a revolutionary real stone resurfacing system," says Daich. "If you can use a paint brush, you can transform surfaces into luxuriously smooth, solid sparkling granite beauty that will simply amaze your clients.
"Best of all, you'll save thousands of dollars compared to installing traditional stone slabs. Your customers will appreciate both the savings and the stand-out appearance. Forget the hassles, supply chain problems and subcontractor labor hassles. In just two days, you can brush on a solid surface granite countertop that will make a positive impact on your project!"
LuxROCK authentic stone surfaces resist stains, heat and impact. Application of the product has low odor and low VOCs. Sinks, plumbing fixtures and countertops do not need to be removed before applying this product to laminates, concrete, plywood, MDF, pre-coated and solid surfaces. The final LuxROCK surface is food safe.
Choices of Smooth or Textured Finish
Daich Coatings also offers its original SpreadStone™ Mineral Select™ Countertop Kit, which offers a textured granite finish on countertops in 11 colors. The kit sells for $125 and also covers 40 square feet of space. The difference between the two kits is in the finish. The new kit has a higher stone content and provides a refined look that resembles a sleek, smooth stone slab finish. For a detailed comparison of the two kits, including different features and benefits, please go to: https://daichcoatings.com/luxrock-vs-spreadstone/.
SpreadStone Mineral Select Countertop Kits, along with other Daich Coatings primers and decorative concrete products, are available online at The Home Depot®, Lowe's® and at https://daichcoatings.com/. LuxROCK Solid Surface Granite Countertop Kits are now available at https://daichcoatings.com/ and will soon be available online at Lowe's and The Home Depot.
About Daich Coatings
Headquartered in Hamilton, ON, Daich Coatings is a leader in the development and manufacture of decorative stone coatings, high performance paints and architectural maintenance products. They combine their expertise in polymer coatings chemistry with nature's most enduring raw material — STONE — and use it to create a line of proprietary finishes that make surfaces beautiful — and pack them with key performance benefits.