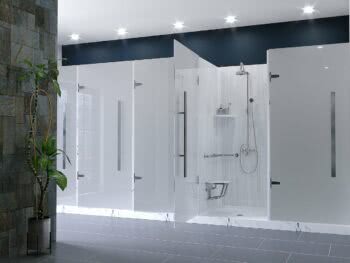 Make it Your Own with Durasein Customizable Shower Systems
Showers are a serious business, so Durasein has worked to build you the perfect kit of creative parts that forms a versatile, reliable and customizable shower system. Whether it's a commercial gig, renovation or new build – they've got all of the components necessary to help you get the job done right, with nothing you don't. Each piece fits seamlessly together for almost any application, and is offered in seven of Durasein's most dazzling solid surface decors, including ADA compliant designs. Additionally, shower pan dimensions and drain configuration can be customized to meet the unique requirements of each project.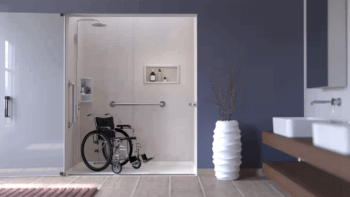 Durasein acrylic solid surface wall panels are engineered to provide superior impact resistance and durability in the most demanding commercial applications. By selecting seamless, full-width Durasein ¼" wall panels, you will have an easy-to-clean surface, with long-lasting resistance to staining and to the development of harmful mold
or bacteria. By installing as a system with our shower pans, you are ensured an aesthetically pleasing and easy-to-maintain shower solution for health-care, senior living, education, hospitality, and multi family housing applications.
Product benefits
Nonporous
Antibacterial
Thermoformable
Impact-scratch-heat-and-fire resistant
Chemical and stain resistant
Color Options
            DM1001 Arctic White
DM1002 Natural White
DM1003 Bone
DM5014 Luna
DM2005 Chez Linen
DM2002 Parthenon
DM5016 Naturale
Environmental 
Certificates & Standards: GREENGUARD & GREENGUARD Gold UL2818 Certified, NSF 51 Certified, HPD available
LEED: Can contribute to LEED certification
About Durasein
Durasein is a solid surface manufacturer that has been in business since 1999 and selling in the USA since 2005. The Durasein solid surface is 100% acrylic solid surface material is incredibly pliable, durable and renewable. That means you can shape it into almost anything, it can stand up to whatever you dish out and it can be resurfaced to like-new condition with just a little bit of elbow grease. Their entire brand is dedicated to serving the architects, designers, and fabricators that fuel our industry.