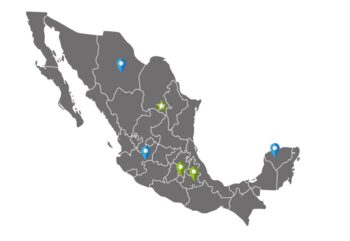 MJB Wood Group Opens New Facilities in Mexico City and Puebla, Mexico
MJB Wood Group, LLC, a manufacturer and distributor of industrial wood products, has opened two facilities in Mexico City and Puebla, Mexico. The two locations, along with MJB Mexico's other four Mexico facilities, are all strategically positioned near ports and major transportation hubs to strengthen the company's ability to support North American manufacturers who are nearshoring operations to Mexico from Asia and the growing Mexican manufacturing economy.
"We are excited about MJB's continued investment to support our growing customers in Mexico. These new facilities broaden our reach and scale to serve our Mexican and multinational customers in support of the growing Mexico manufacturing economy partially driven by nearshoring manufacturing to Mexico," said Eduardo Ontiveros, Managing Director of MJB Mexico.
As a supplier to cabinet manufacturers across North America and member of the Kitchen Cabinet Manufacturers Association (KCMA), MJB provides valuable product solutions that allow manufacturers to focus on their core competencies. According to KCMA CEO Betsy Natz, MJB supplies a wide range of value-add solutions ranging from plywood and composite panels to highly engineered parts such as cabinet end-panels, cut-to-size shelving, cabinet doors, drawer parts, moldings, and more. "The continued expansion of MJB Mexico will make them an even more valuable partner to North American cabinet manufacturers and KCMA members," said Natz.
"MJB has been a leading wood products supplier in Mexico, for more than 24 years. Our Mexico team is the best and has the resources to fully support our growing customers anywhere in Mexico. This won't be our last expansion," said Scott Griggs, President, and CEO of MJB Wood Group.
About MJB Wood Group
MJB Wood Group, a Coors family-owned company, is a market leading manufacturer, distributor, and supply chain solutions provider of wood products, panels, and components. MJB utilizes its manufacturing and distribution facilities across the US and Mexico to serve the Cabinets, Doors, Fixtures, Furniture, Millwork, Recreational Vehicle, Transportation, and other industries.