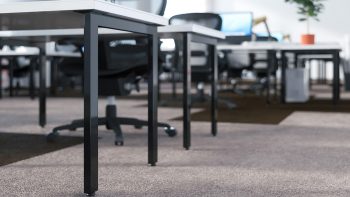 Mockett Brings Double the Legs and Double the Fun
Mockett's new TL37B Dual Rectangular Table Leg, designed by Nancy Montgomery in Los Angeles, is intended to be strikingly simple, while remaining elegantly deluxe. TL37B is a highly versatile, modern twin table leg that will fit into any design landscape. Its slender figure consists of two rectangular legs that stand 27 7/16″ high with a 22 1/16″ stretcher between them. Perfect for high-end workstations, home offices, executive desks, or even dining tables.
The TL37B is easy to mount with four screw holes on each top plate. The legs are then set in place with adjustable levelers on each leg.
Size: 27 7/16″ high with levelers. Top plates are 3″ x 4″.
Weight capacity: 200 lbs. maximum per dual rectangular leg.
Finish: Black & Satin Stainless Steel.
Also available in a single leg version, TL37A. Height and finish can be customized to meet specific needs.
About Doug Mockett & Company
Founded in 1980, Doug Mockett & Company is the leader in innovative furniture components and architectural hardware, providing "Fine Architectural Hardware for Your Fine Furniture™". We strive for simplicity in design and a spareness in execution. Quality is our guarantee and our commitment to serving you is our promise. We invite you to enjoy our extended product lines in Wire Management, Power & Data Grommets, Furniture Legs, Drawer Pulls, Casters, Coat Hooks, Shelf and Work Surface Supports, Kitchen, Bath and Closet accessories, new ideas in Computer-Into-Desk Integration, and a terrific line of Multi-Purpose Support Brackets.