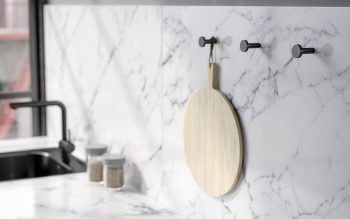 Mockett Introduces Flat Top Button Hook for Low Profile, Convenient Hanging Storage
The newest member of the Mockett line is HK27, a sturdy, low-profile and aesthetic storage solution that enhances the function of any space. Coat Hooks don't get any easier than this. A straight post attaches to the wall with an enlarged cap at the end to secure a wide variety of items. This contemporary hook has a slim and unobtrusive look that will blend seamlessly with the décor in any environment.
Stylish minimalist design
1 3/4″ overall projection
Cap 1 1/8″ diameter, 1/4″ thick
Post 1/2″ projection
The HK27 is also available as a trio with a backplate in two sizes: HK27A and HK27B.
About Doug Mockett & Company
Founded in 1980, Doug Mockett & Company is the leader in innovative furniture components and architectural hardware, providing "Fine Architectural Hardware for Your Fine Furniture™". We strive for simplicity in design and a spareness in execution. Quality is our guarantee and our commitment to serving you is our promise. We invite you to enjoy our extended product lines in Wire Management, Power & Data Grommets, Furniture Legs, Drawer Pulls, Casters, Coat Hooks, Shelf and Work Surface Supports, Kitchen, Bath and Closet accessories, new ideas in Computer-Into-Desk Integration, and a terrific line of Multi-Purpose Support Brackets.