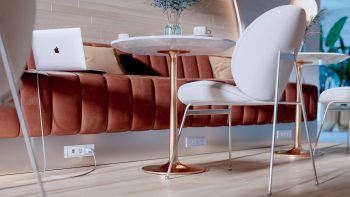 Mockett's New Minimalist Surface Mount Grommet Provides Convenient Power and USB Charging
Mockett's versatile new PCS85B/USB power block mounts virtually anywhere to provide convenient power and USB charging wherever you may need it most. PCS85B/USB comes equipped with two power receptacles rated 15A/125VAC and dual 2A USB-A charging ports. Its sleek minimalist style makes for an artistic, contemporary look and feel.
The PCS85B/USB features a stylish, contemporary faceplate and mounts nearly flush into any surface for a seamless, "barely there" look. The PCS85B/USB is UL listed and tested to meet UL standards. It comes with a 6-foot power cord to provide maximum flexibility and convenience.
Finishes for the PCS85B/USB include Matte Black, White, Grey and Light Grey.
Overall Dimensions: 6 21/32″ x 2 5/16″
Cut Out: 6 5/16″ x 1 15/16″
About Doug Mockett & Company
Founded in 1980, Doug Mockett & Company is the leader in innovative furniture components and architectural hardware, providing "Fine Architectural Hardware for Your Fine Furniture™". We strive for simplicity in design and a spareness in execution. Quality is our guarantee and our commitment to serving you is our promise. We invite you to enjoy our extended product lines in Wire Management, Power & Data Grommets, Furniture Legs, Drawer Pulls, Casters, Coat Hooks, Shelf and Work Surface Supports, Kitchen, Bath and Closet accessories, new ideas in Computer-Into-Desk Integration, and a terrific line of Multi-Purpose Support Brackets.