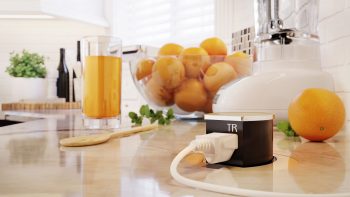 Mockett's PCS103 Kitchen Counter Pop-Up Outlets Provide Easy, Stylish Power Within Reach
Mockett has released a new low-profile addition to kitchen countertops! Power within reach that pops up when needed and presses down into the surface when finished for a clean and stylish look. The PCS103's stylish flange has a beveled edge.
Features & Specifications
UL Listed for Countertop Installations
• Water and Tamper Resistant Receptacles
• Dual-Sided, two power outlets per unit
• Spring-Loaded Pop Up
Installation
Easy surface installation: cut a 3-7/16" diameter hole and drop in from the top, then hand tighten the locking ring underneath to secure in place. Have a licensed electrician hardwire into a GFCI circuit to finish the job and you're ready to enjoy the convenience of water-tight power directly on the countertop. The PCS103A is ideal not only for kitchen installations, but also any other potential wet areas.
Also available in a flush mount version PCS103B that is countersunk into the countertop for a completely seamless look.
Finishes include Black, Satin Nickel, Polished Chrome, Espresso, Satin Aluminum and White to match any kitchen décor. All styles and finishes are in stock and ship on the same day.
About Doug Mockett & Company
Founded in 1980, Doug Mockett & Company is the leader in innovative furniture components and architectural hardware, providing "Fine Architectural Hardware for Your Fine Furniture™". We strive for simplicity in design and a spareness in execution. Quality is our guarantee and our commitment to serving you is our promise. We invite you to enjoy our extended product lines in Wire Management, Power & Data Grommets, Furniture Legs, Drawer Pulls, Casters, Coat Hooks, Shelf and Work Surface Supports, Kitchen, Bath and Closet accessories, new ideas in Computer-Into-Desk Integration, and a terrific line of Multi-Purpose Support Brackets.