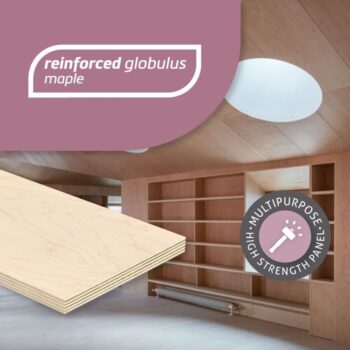 Move Over Russian Baltic Birch: Garnica Offers Viable, Sustainable Alternatives
What is "conflict timber" and is there an alternative? In response to events in Ukraine, more than 30 countries have placed sanctions on Russian birch, a long-standing favorite both in the U.S. and around the world. Previously, hundreds of thousands of cubic meters of birch plywood were imported to the U.S. with Russia and Belarus being two main suppliers.
Now International timber certification bodies like FSC – as well as unions and countries, including the U.S. and Canada – have either banned or placed hefty restrictions on 'conflict timber' originating from Russia or Belarus such as Russian birch. These developments have left architects and designers searching for viable alternatives.
While few such options exist, Garnica, a leader in premium sustainable plywood renowned for its eco-friendly certifications and sustainable focus, offers the perfect alternative with its Reinforced Globulus Maple plywood option. Lightweight and extremely durable, Reinforced Globulus Maple features multilayered edge detailing and boasts the same aesthetic and performance benefits as birch:
Stylish: Similar to birch in color and grain, maple is known for its subtle and consistent grain pattern.  The maple faces have been finished to create a smooth, uniform surface that requires no further processing and arrives ready to use.
Sustainable, reliable supply: Maple is sourced 100% from Northeast America, both USA and Canada. Wood originating from these areas promises a stable, reliable supply with no volume restriction. Garnica uses Hard Maple (Acer Saccharum), also known as the Sugar Maple, which is common both in the U.S. and Canada.
Strong combi core: the poplar and eucalyptus globulus combi core boasts the superior mechanical characteristics of eucalyptus globulus and is sourced from fast-growing EU plantations. When used in construction projects, this translates into long-wearing finished pieces capable of holding great weight. Its stable, easily machined multi-ply composition is ideal for exposed edges in artistic furniture and fixtures.
ABOUT GARNICA
Garnica is a global leader in the plywood industry. Since its founding in 1941 as a sawmill in La Rioja (Spain), Garnica has been exploring new ways to manage and use natural resources intelligently and to manufacture exceptional plywood solutions. Strategically located near five of Europe's largest poplar plantations, Garnica operates six production centers, five in Spain and one in France, with a new facility soon to be added in the French region of Sud Champagne.