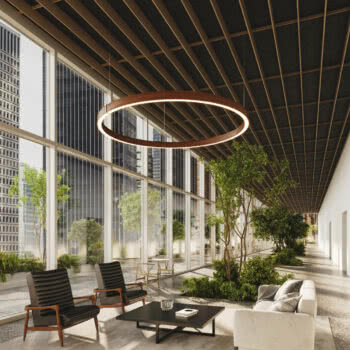 New Cerno Line of Architectural Lighting Products Showcase Stylish Modern Design
Aliso Viejo, CA — Cerno's new line of architectural lighting products are inspired by their California roots and come from some of their favorite beaches and places to visit close to home.
The Thalia evolved from Cerno's Penna pendant. This statement piece is equal parts robust and elegant. Solid hardwood and solid metal give this fixture it's integrity and sculptural feel.
The Gaviota is new, fresh, and an impressive design and engineering accomplishment by the Cerno team. Large rings may not be new, however, large wood rings crafted by master craftsmen are not something you will find every day.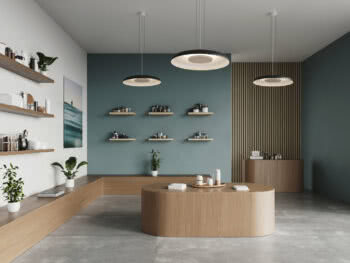 The Torrey is both solid and sleek. The process to form its shade celebrates hands-on craftsmanship with spinning techniques used to form metal for thousands of years. A cleverly designed down-stem attaches the shade to a wood or metal disc, which houses an indirect light source. The shade emits a beautiful quality of light.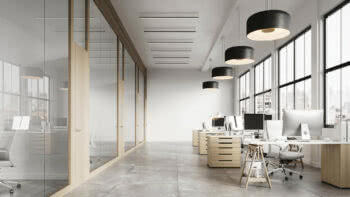 Rincon: This fixture pays homage to mid-century-modern design while infusing contemporary elements as well. A voluminous 28" diameter shade is impressive, but not overwhelming. The void and center disc that houses the light source balances the scale and proportions well, creating a sculptural feel.
The form of the disc and the bugle-shaped interior stem/reflector mimics the shade's contours, allowing these three performance-driven design decisions to work in concert. The wood or metal disc options are paired with the white, black, brass, distressed brass, or brushed aluminum shades and adds to the dynamic beauty of this fixture.
Rincon is currently offered as both a pendant, and a flush mount version will be introduced soon. We see this product working well in commercial, residential, and hospitality environments.
About Cerno
Cerno designs and builds lighting in California with the finest craftsmanship and authentic materials. Their aesthetic is an intersection of modernism and contemporary design. In addition to Cerno's line of modern lighting, Cerno has an art lighting brand that is currently making the most sophisticated picture light on the market. https://cernogroup.com/