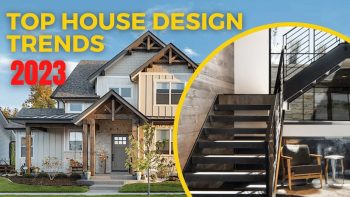 New Home Size Trends for 2023: Inflation, Higher Building Costs and Mortgage Rates Take Bite Out of Square Footage
An online source for home architectural plans, The Plan Collection, reports new home plans sought and purchased in 2022 shows square footage is shrinking as homebuyers battle inflation, increased building costs and high mortgage rates. Year over year, searches for plans for homes ranging from 500 to 1,000 square feet are up 34 percent, while plans for 1,000 to 1,500 square feet homes gained 32 percent.   Supporting the shrinking home trend, Bank Of America's 2022 Homebuyer Insights report revealed 71 percent of prospective buyers are willing to purchase homes with less square footage to offset factors such as inflation, higher building costs and high mortgage rates.
Another revelation from the same year-over-year evaluation shows a 43% growth in interest in garages with an apartment. CEO Brian Toolan attributes the increase to the new 'granny flat' or accessory dwelling unit (ADU) zoning approvals which allows them to be used as rentals or housing for extended family.
Laurel Vernazza, home design expert for The Plan Collection, offers these insights for maximizing living areas in smaller homes:
Architectural style – Among The Plan Collection's 2023 trends and predictions, the modern bungalow gets increased attention from millennials and empty nesters who want to downsize affordably but with style. One-story modern bungalow designs typically cost less to build and offer curb appeal, high ceilings, contemporary open floor plans, larger bathrooms and 21st-century exteriors. Other home styles with similar advantages include the classic ranch and cottage styles.
Living large in smaller homes – "We're seeing more vaulted and higher ceilings. For instance, homeowners may incorporate a 10-foot ceiling rather than an 8-foot ceiling in a portion or all of the house to provide a more expansive feel," says Vernazza.
Other ideas include:
Incorporating outdoor living space with a screened-in porch or extending the roofline to create a covered patio.
Opting for an open floor plan to make the living area feel larger.
Installing floating vanities and/or wall-hung fixtures in baths for an uncluttered look.
Including built-ins around fireplaces or in walls which offer space-saving storage opportunities.
Using large windows to let in natural light and create a connection with the outdoors.

ABOUT THE PLAN COLLECTION
The Plan Collection offers more 20,000+ affordable house plans developed by the nation's most talented architects and designers. Through the use of pre-drawn customizable plans, builders and those looking to build can develop their dream homes at a lower cost. The site also offers detailed how-to articles and knowledgeable representatives to help visitors find answers to their questions. For more information, visit www.theplancollection.com.