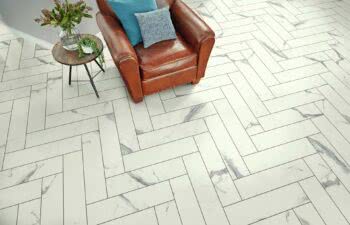 New Karndean Designflooring LVT Korlok Select Stones Design Eliminates Grouting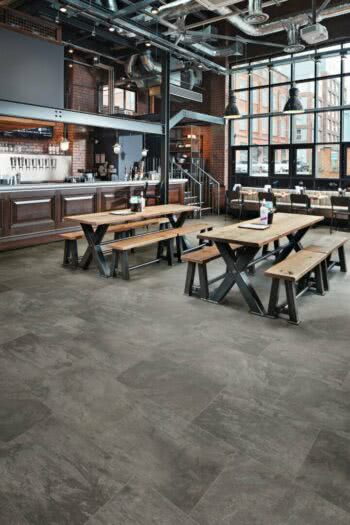 EXPORT, PA – After introducing the Korlok Select interlocking rigid core range three years ago, Karndean just released 17 new stones to the award-winning line, offering original Karndean visuals in a quicker and easier to install alternative to ceramic and porcelain tile.
Known for traveling the world in search of expressive and intriguing natural forms to inspire their designs, Korlok Select stones are inspired by antique French cotta, Calacatta marble, slate, limestone and include Moorish stenciled tiles. The Calacatta marble visuals are available in two sizes: 18" x 24" tiles and a 6" x 24" herringbone format, allowing for added design flexibility.
Attached InteGrout™ eliminates messy and time-consuming grouting process entirely
Color-coordinated and nonporous InteGrout™ is seamlessly attached to all visuals, except the two stenciled designs. By eliminating the messy grouting process altogether, Korlok Select stones with InteGrout™ can be installed and walked on in the same day and requires less tools, time, and labor than ceramic and porcelain. At just 1/3 of the weight of the average porcelain tile of the same size, Korlok Select can be easily transported and installed in any level of the home.
Unlike products with painted bevels and typical textured grout, smooth InteGrout™ is stain-resistant, does not harbor dirt or bacteria and easily wipes clean. "With hygienic and easy-to-clean products top of mind for consumers in today's climate, the ability to easily clean a grouted tile floor has tremendous appeal," Karndean Designflooring director of marketing Jenne Ross said.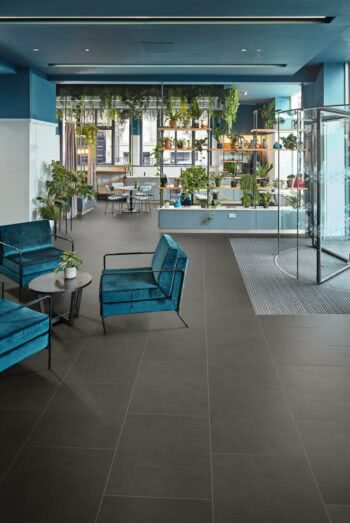 "This benefit, combined with the product's 5G® fold-down locking mechanism, minimal subfloor preparation and acoustic qualities make Korlok Select with InteGrout™ an ideal alternative for the consumer that loves the look of ceramic or porcelain, but needs a floating option to fit their busy lifestyle."
Korlok Select stones are equipped with a 5G® fold-down locking mechanism, whose performance is guaranteed by the HoldFast® Lifetime Residential Warranty, along with waterproof K-Core® technology that allows for fast installation over most existing hard floors. A pre-attached, closed-cell acoustic foam backing reduces noise transfer to the level below by 22dB and does not pool water or encourage mold, mildew or bacterial growth. Like all Karndean floors, Korlok Select is finished with K-Guard+® surface protection to provide a hygienic, durable and easy to clean finish.
About Karndean Designflooring
Karndean Designflooring is global leader in luxury vinyl tile (LVT) flooring design with operations in the USA, UK, Australia, New Zealand and Canada. By offering a wide range of colors, textures and finishes, their products allow you to create looks that are unique to home and business and are guaranteed to last. With a passion for creating floors, which are stylish and practical, they help customers find the right floor for their space, needs and unique style.
Editor's Note:
There's always questions about removal of flooring, and while KB-Resource recommends leaving it to professionals, it's always interesting to take a peek at how it's done. The people at HappyDIYHome have published, How to Remove Vinyl Flooring for your reference. Their team, comprised of a permaculture designer and environmental consultant, a home remodeling contractor, a DIY expert and others, offer insights into as they explain, "information we wish we had when we started remodeling our 100-year old home, a 4,500 sf Victorian house."  From design inspiration to DIY tutorials and detailed walkthroughs, the site might interest you and make the decision between DIY and professionals a bit easier. Enjoy.