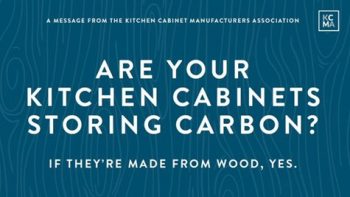 New KCMA Infographic Helps Designers Share Sustainability Advantages of Wood-Based Cabinetry
RESTON, VA. – The Kitchen Cabinet Manufacturers Association (KCMA) has published a new infographic titled "Are Your Cabinets Storing Carbon?" to help interior designers explain the measurable, real-world environmental benefits of wood-based cabinets to clients. Designed to illustrate how wood and composite wood panels actually store more carbon than is released in their production and use, the infographic maps out how these materials go beyond sustainable to being "climate positive," a term that has been adopted by a growing number of global brands.
According to new data from the Composite Panel Association (CPA), the North American composite wood used in kitchens and bathrooms in 2021 alone is sequestering more than 3 million metric tons of carbon. This is 1.08 million metric tons more carbon than is released by turning that wood into cabinets and substrates for countertops. That means when a composite panel is sent to a kitchen cabinet manufacturer, it has already offset the greenhouse gas emissions associated with its production and has the capacity to store that carbon for decades.
"It's rare to hear a story that's this good and know it's not 'greenwashing,'" says KCMA CEO Betsy Natz. "Many companies and industries say they are planning to be 'climate positive' by 2030 or 2040 – but our members are there now. The infographic is one way we are shining a light on their usage of materials that are Climate Positive Now, and helping interior designers proudly tell this important story to their clients."
The new infographic is available for download on the KCMA website and is one of the first initiatives aimed at promoting the role KCMA members play in creating a more sustainable world. This movement is also part of a larger effort to create awareness of the significant environmental impact building material choices have on the environment.
ABOUT KCMA. The Kitchen Cabinet Manufacturers Association (KCMA) is a non-profit organization founded in 1955 to represent companies who manufacture cabinets, bath cabinets, or other residential cabinets and key kitchen and bath industry suppliers. With a membership now more than 300 strong throughout North America, KCMA works to advance the cabinet industry through advocacy, setting cabinet quality standards, sponsoring kitchen and bath cabinet-related research, and providing the cabinet industry with management tools and educational programs.