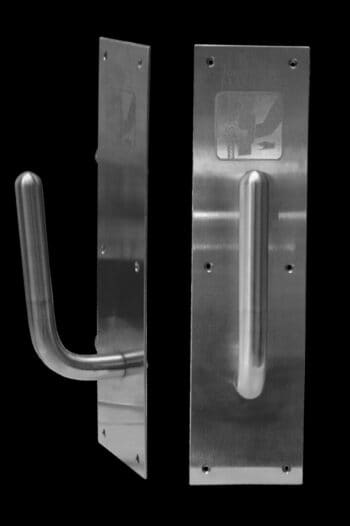 New Public Spaces Door Handle Designed to Be Touched with Your Wrist or Arm, Not Your Hand
SanitGrasp's Hygienic, New-Touch Solution for Public Spaces
SanitGrasp has introduced a new-way-to-touch door pull handle, provides a hygienic solution for exiting public spaces. Demand has hit an all-time high as commercial and hospitality businesses prepare for reopening and need to implement safety measures across high-traffic areas that require the most interaction. As companies worldwide seek solutions that can help protect their staff, employees and customers against the spread of COVID-19 and other viruses, SanitGrasp serves as a hygienic and affordable solution that is easy to install or simple to retrofit. According to the company, the new handle can be found in offices, educational facilities, grocery stores, restaurants, hotels and government agencies across the country.
Conceived by Matthew Fulkerson, SanitGrasp allows a person to use their wrist or the bottom of their arm to open a public restroom door.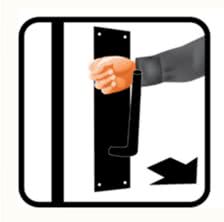 "The concept was to replace the last touchpoint in a restroom, which is traditionally a pull handle," he states. "If you touch the door handle, you have essentially makes all other touchless options useless."
Fulkerson points out his internationally patented product is ADA-compliant and can easily retrofit an existing handle. It features a stainless steel handle, an angled opening with a rounded cap and easy to read, engraved instructions. SanitGrasp handles are coated with SANIGUARD®, an antimicrobial finish.
With heightened awareness of the surfaces touched on a daily basis, the need for antimicrobial, no-touch and contactless solutions has never been greater. A trusted solution for public spaces, SanitGrasp is available to order online for $145.99 each or can be ordered in larger quantities for public and private sector projects, which qualify for project pricing tiers.

Invented by Matthew Fulkerson in 2005, SanitGrasp has been providing a no-touch pull handle to commercial, hospitality, healthcare, educational and government agencies across the country. The company offers a safe, hygienic and contactless solution for exiting public restrooms. Fulkerson, LLC owns all SanitGrasp patents.