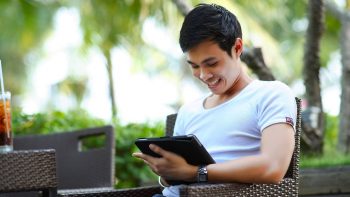 Newly Debuted Text-To-Apply HR Tech by TeamSense Revolutionizes Application Process for Next-Generation Workforce
TeamSense's Text-to-Apply Tool Debuted to Provide Text-Based Recruitment Opportunity to Thousands of Atlanta Students
Seattle, WA– The HR tech company TeamSense, created by manufacturing insiders from General Motors and Whirlpool who make a "text to apply" tool for the human resources industry, provided use of the product to connect job hunting students to corporations looking for new talent at the SkillsUSA National Leadership & Skills Conference in June 2022. More than fifty corporations were provided with a customized text-to-apply number and handle that connects directly to each company's job application portal. This is the first time that a tool has been provided to SkillsUSA students and corporations specifically for a recruitment opportunity. The event was held in Atlanta, June 20-24 at the Georgia World Congress Center.
The text-to-apply product has been used so far as a pilot program with TeamSense's client, Hunter Douglas. Text-to-Apply was developed when a forward-thinking HR manager at Flexo Solutions (a division of Hunter Douglas) suggested that TeamSense's unique texting capability could be used for recruiting. Amanda Patoka is an HR Manager who saw an opportunity to enable applicants to engage with the company quickly and easily via text.
The product works by establishing branded text keywords for recruiting. For Hunter Douglas, texting "HD Jobs" to 592-30 automatically responds with a link directing the applicant to the company's applicant tracking system.
"We have provided 50 SkillsUSA partners with their own keywords and signs featured in their SkillsUSA TECHSPO trade show booths so that students at the event can use their smartphones to apply for jobs that interest them," said Sheila Stafford, CEO, TeamSense. "As we wade through the recruitment difficulties of the Great Resignation, we feel we can contribute to the solution by being the text-based connection point between these deserving, young and talented students and the corporations who need innovative and motivated employees."
"Helping our students find employment in skilled trade areas they're passionate about aligns perfectly with our mission of empowering students to become world class workers, leaders, and responsible American citizens," said Chelle Travis, executive director of SkillsUSA. "The Text-to-Apply product is a great example of the new technologies we need to help employers communicate more effectively with the next-generation workforce. We appreciate TeamSense and their willingness to share and promote this technology with SkillsUSA members and our partners at our national workforce development event."
TeamSense is focused on engaging and enabling deskless workers through text-based productivity tools. The text-to-apply solution is a natural extension to the product line up helping companies meet their employees, with a technology that works for everyone.
About TeamSense
TeamSense is the leading app-free, text-based digital platform purpose-built for hourly workers. TeamSense was created by manufacturing veterans whose understanding of what keeps a factory running makes it the #1 choice for multinational employers such as Anheuser-Busch, Hello Fresh, Hunter Douglas and Pella Windows. TeamSense is headquartered in Everett, Washington.
About SkillsUSA: Founded in 1965, SkillsUSA is a nonprofit partnership of students, teachers and industry that empowers its members to become world-class workers, leaders and responsible American citizens. The SkillsUSA Framework of Personal, Workplace and Technical Skills Grounded in Academics inspires work and life success for students while helping industry close the skills gap currently leaving millions of skilled trade jobs unfilled. Through SkillsUSA's career competitions program and curricula, employers ensure schools are teaching relevant technical skills, and with SkillsUSA's credentialing process, they can assess the career-readiness of their future employees. SkillsUSA's membership of nearly 340,000 students and instructors encompasses middle schools, high schools and college/postsecondary institutions in every state and three U.S. territories. SkillsUSA programming covers 130 trade, technical and skilled service occupations, and is recognized by the U.S. departments of Education and Labor as integral to career and technical education. For more information: https://www.skillsusa.org/.