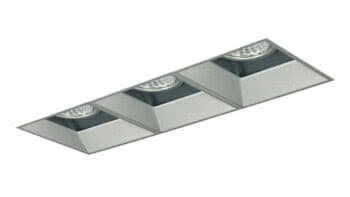 NORA LIGHTING® IOLITE LED MULTIPLE LIGHTING SYSTEM NOW AVAILABLE WITH TRIMLESS APPEARANCE
COMMERCE, CA – Nora Lighting's award-winning Iolite LED Multiple Lighting System (MLS) is now available in both a flanged style or trimless model with a contemporary, knife-edged appearance.
The Iolite MLS series has one to three independently adjustable and interchangeable heads. Each head offers three reflector types, three optics and three finishes for custom applications. Reflectors include a fixed downlight, adjustable snoot and wall wash; finishes include black, haze or matte powder white.
Iolite fixtures deliver over 1000 lumens per head and color temperatures range from 2700K to 5000K at 90+ CRI. Comfort Dim (warm dim) is an option.
Iolite MLS housings are rated for direct contact with insulation for energy saving, air-tight installations. Individual 120/277V drivers allow for independent control and dimming.

Nora Lighting has served the lighting industry for more than 30 years and is a recognized leader in the development and introduction of LED products. Nora offers one of the industry's most comprehensive lines of LED luminaires, including: commercial, architectural and residential downlights; track and rail lighting; panels and troffers; MLS (multi-lighting systems); linear and under cabinet lighting; RLM, pendants and cylinders; tape lights; step lights; and emergency / exit signs. www.noralighting.com.