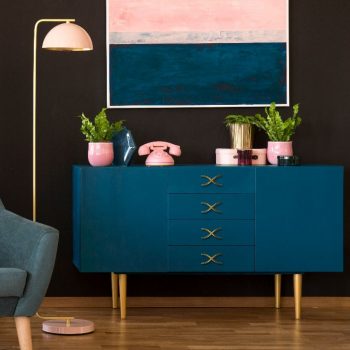 Not Merely Hardware, But Jewelry: Belwith Keeler Showcased New Designs at HD Expo 2022
Grandville, MI – Hot on the heels of making a grand design statement at the Kitchen and Bath Industry Show (KBIS), Belwith Keeler® brought a showcase of statement hardware to Hospitality Design Expo 2022 in Mandalay Bay, Las Vegas.
"This is not merely hardware, it's jewelry, the accent details that make an interior space more beautiful," says Knikki Grantham, Director of Style/Ambassador of Brand and Outreach for Belwith Keeler parent company, Belwith Keeler Décor Solutions®. "These pieces have been reimagined in exceptional, timeless finishes, ready for hospitality designers to integrate into their interior and furniture designs."
Right on Trend, Right on Time
Grantham's experience in trend forecasting is part of the brand's larger design team process. "Rigid lines that once separated the domains of fashion, art, interior design, and architecture have long blurred. Interiors inspired by fashion have come to the forefront, driving trends and energizing designers and customers alike to rethink their space as a reflection of self. Unique, one-a-kind, and special."
Belwith Keeler has always been dedicated to seeking out solutions for designers and specifiers that help create a marriage of sophistication and functionality. That commitment extends from the quality of its products to delivering world class service through an in-house sales team; providing personalized customer service that includes sourcing and shipping in-stock designs within 48 hours; and the Belwith Advantage Program, an exclusive program that works to develop a solution that fits the exact needs of trade professionals.
Bijou Collection
The Bijou collection was curated on Grantham's stylistic research and attention to trends. The star of the Bijou Collection, the iconic X Pull, was originally created for a major furniture manufacturer more than 40 years ago. A blend of classic lines and modern elegance, the X Pull is a case study on how one element can lend a transforming look to any room, by pushing design forward and resonating with designers and guests alike.
It joins more than a dozen jewelry-inspired designs curated to round out the Bijou Collection, including the Sybil Ring Pull, inspired by jewelry designer David Yurman's iconic cable bracelet. Among the Bijou Collection's supporting cast is: the Laurel Pendant Pull, with its teardrop shape mimicking the delicacy of an earring; the Astoria Pull with undulating, scalloped ridges; and Odette which embodies the whimsy of the mid-century modern period.
 OEM Experience Since 1893
Superior design is timeless and for close to 130 years, Belwith Keeler has remained a leader and trend-setter across furniture industries. And safely stored within its vault of products are over 300,000 concepts and 100,000 manufactured designs.
"Our inside sales team coupled with decades of experience gives us the ability to provide similar or exact designs for specified furniture, simply by opening our vault," shares Grantham.
In addition to thousands of ready-to-tool designs, Belwith Keeler can create custom designs that allow product and interior designers to choose the tool and finish for large projects and receive their hardware in less time than most custom furniture orders.
About Belwith Keeler
Refined in Elegance and built on a rich heritage, Belwith Keeler crafts luxury decorative cabinet hardware with an expert fit and finish specifically for kitchen and bath showrooms. Belwith Keeler is part of the Belwith Keeler Décor Solutions® division brands that include Hickory Hardware®, Keeler® and First Watch® Security.