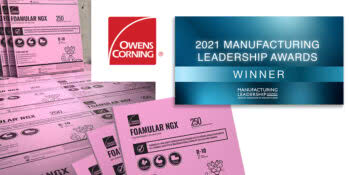 Owens Corning Awarded 2021 National Association of Manufacturers "Manufacturing Leadership Award" for Environmental Sustainability Innovation
FOAMULAR® NGX™ extruded polystyrene earned "High Achiever" recognition for highest score in Sustainability Leadership category
Owens Corning has been recognized as a 2021 Manufacturing Leadership Award recipient for its outstanding achievement in material science innovation supporting environmental sustainability. Additionally, Owens Corning was named a "High Achiever" for receiving the highest score among awardees in the "Sustainability Leadership" category.
The innovation – FOAMULAR® NGX™ (Next Generation Extruded) extruded polystyrene (XPS) insulation – reflects Owens Corning's goal to reduce global greenhouse gas emissions 50% by 2030. FOAMULAR®
NGX™ features a proprietary blowing agent that delivers a 90% reduction in global warming potential (GWP) compared to legacy FOAMULAR® insulation blowing agents. Researchers evaluated more than 100 blowing agent formulations and developed proprietary manufacturing processes to achieve a greater than 80% reduction in total product embodied carbon.
FOAMULAR® NGX™ was launched on January 1, 2021, as a growing number of U.S. states and Canada enacted new environmental regulations. Given intense interest in green building, Owens Corning is making the new product available throughout the U.S. and Canada.
"Moving beyond complying with regulations and codes, we've found that sustainably-minded architects have a fierce interest in creating more sustainable buildings, and our products have an important role in meeting their needs," said Frank O'Brien-Bernini, senior vice president and chief sustainability officer at Owens Corning. "Collaborating around customers' goals is a foundation for evaluating how to reduce embodied carbon and improve the overall efficiency of buildings."
David Rabuano, Insulation global operations vice president at Owens Corning, commented on the coordination and logistics required of cross-functional teams to facilitate production of FOAMULAR® NGX™. "This successful blowing agent conversion could not have been accomplished without the dedication, determination, resilience and innovative thinking our teams have demonstrated through years of product development," Rabuano said.
Awardees were selected by an expert panel of high-level digital manufacturing executives, who evaluated nominations based on five criteria: technology use, scale throughout the organization, business impact, process impact, and strategy impact. Penelope Brown, content director for the Manufacturing Leadership Council and director of the awards program, stated, "FOAMULAR® NGX™ was selected by the judging panel as an outstanding example of technology-driven leadership in environmentally sustainable manufacturing. FOAMULAR® NGX™ demonstrates it is possible to achieve goals that protect the climate, reduce embodied carbon and advance circularity while abiding by the highest level of manufacturing processes."
Owens Corning accepted the award during the virtual Manufacturing Leadership Awards Gala on May 19, 2021. More information about FOAMULAR® NGX™ – including a real-time map showing state-by-state adoption of relevant new environmental regulations – is available on the Owens Corning website. For more about Owens Corning's sustainability journey, visit the company's sustainability website.
About Owens Corning
Owens Corning is a global building and industrial materials leader. The company's three integrated businesses are dedicated to the manufacture and advancement of a broad range of insulation, roofing and fiberglass composite materials. Leveraging the talents of 19,000 employees in 33 countries, Owens Corning provides innovative products and sustainable solutions that address energy efficiency, product safety, renewable energy, durable infrastructure, and labor productivity. These solutions provide a material difference to the company's customers and make the world a better place. Based in Toledo, Ohio, USA, the company posted 2020 sales of $7.1 billion. Founded in 1938, it has been a Fortune 500® company for 66 consecutive years. For more information, please visit www.owenscorning.com.