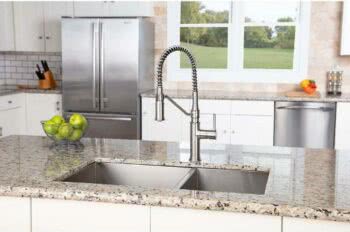 PlumbMaster Delivers on Sensor Kitchen Faucet Trend
New Artis Pull-Down Sensor Kitchen Faucets from Wolverine Brass now available in two design styles
Glen Mills, Pa. – PlumbMaster, a premier source of quality plumbing repair and maintenance parts, introduces sensor kitchen faucets in two attractive styles. With trend-conscious consumers increasingly favoring handsfree faucet options in the kitchen, having these options available is a big plus for PlumbMaster customers.
The concept of intuitive, touchless operation of faucets in the home, and particularly in the kitchen, has quickly gained popularity due to cleanliness and hygiene sensibilities reaching an all-time high. "We strive to stay on top of trends and offer products that meet current consumer needs," says Amy Scherer, PlumbMaster's director of Residential Plumbing. "While helping prevent the spread of germs, these faucets also look and perform great."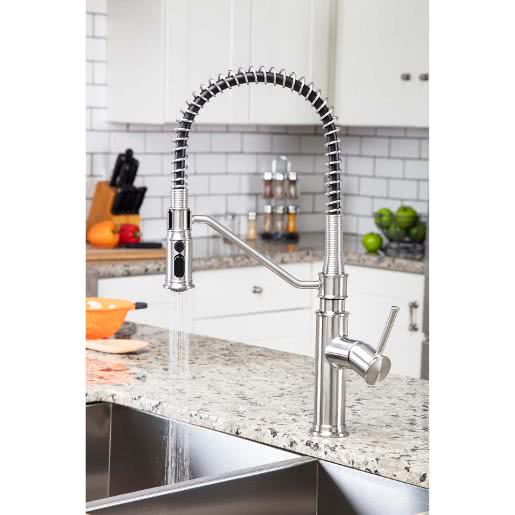 The faucets feature one of the smallest yet most reliable solenoid sensors available today. Equipped with a time-out feature, the advanced sensor technology stops the water flow automatically after four minutes, which is ideal for handwashing and handy for rinsing dishes and other kitchen tasks. For tasks that require more water and to change the temperature, the faucet can be operated manually with the handle, similar to a standard kitchen faucet.
Two spray options help with cleaning and rinsing tasks. For ease of use, the spray always defaults back to the aerated stream when the water is turned off. The solid brass construction of the faucet is designed to last many years, even in conditions with hard water.
"The convenience and safety of handsfree faucets is hard to beat," says Scherer. "We think they are here to stay and these Wolverine Brass faucets are a perfect match for this growing demand."
The Wolverine Brass Artis Sensor kitchen faucets come in two styles: an attractive transitional design, and a more industrial-inspired look with exposed springs. The Artis Spring Pull-Down kitchen faucet comes in three finishes, Polished Chrome, Stainless Steel and Matte Black; while the regular Artis Pull-Down Kitchen Faucet is available in the most popular finishes Polished Chrome and Stainless Steel.
All models are NSF 372 low lead compliant and offer convenient single hole drop-in installation in decks of up to 2-13/16 inches thickness.
About Plumbmaster
PlumbMaster is a premier source of quality plumbing repair and maintenance parts serving the plumbing, institutional, healthcare, governmental and other related industries. A part of Professional Plumbing Group (PPG), PlumbMaster is also the exclusive distributor of Wolverine Brass, offering faucets and other specialty plumbing products. For more information, visit plumbmaster.com.