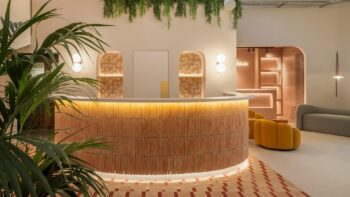 Project Spotlight: Juno House, Barcelona's First Women's Club for Female Professionals
In Barcelona, a 19th century former factory has been transformed into the first social club in Spain designed to meet contemporary female needs. The interiors of this architectural gem, located in the city's business center, were renovated with a refreshing Mediterranean design using natural materials, bespoke items created especially for the club, and a variety of interconnected spaces. The unique project was carried out by the The Room-Studio in collaboration with WOW Design whose signature tiles are featured in several areas.
Founded by a group of Spanish and North-American women, the club was designed to meet specific needs for professional women. The expansive new facilities include a restaurant, shop, meeting rooms, stage, recording studios, crèche, offices, library, exhibition room, chill-out zone, sports areas, wellness and beauty center, and numerous leisure areas.
Ceramic rug anchors signature restaurant. Specializing in signature cuisine, the restaurant is one of the main focal points of the complex, with floor tiles from WOW Design's Bejmat collection in the form of a big ceramic rug. The mix of red glazed tiles and terracotta-coloured ones affords just the right contrast and touch of warmth. With their different format, texture and shine, the tiles give the restaurant an upbeat appearance, infusing it with all the appeal of natural materials. The restaurant bar is clad in rectangular relief tiles, laid vertically to lend the surface a certain sense of movement. The tiles are from the Stripes collection, also by WOW Design.
Mediterranean design in earthy shades. For the design team, "Juno House had to be strongly identified with Barcelona, looking back at the past a little and reviving traditional crafts." Ceramic tiles were used "because the club had many organic features and we wanted to take advantage of different textures," they added.  "We were looking for earthy shades to give the project a natural appeal, so we opted for tiles in both a natural and a glazed finish to create a restful, organic environment," said Meritxell Ribé, The Room-Studio' interior designer.
About The Room-Studio
The Room-Studio is an interior design and architects' studio headed by Meritxell Ribé and Josep Puigdomènech. It focuses on capturing the essence of different spaces and expressing it through sensory experiences.
About WOW Design
WOW specializes in the design and development of bespoke signature tiles tailored to meet individual projects and the needs of architects and interior designers. Its main target markets are the USA and European Union countries. WOW's goal is to continue expanding, mainly in these two markets via material specifiers through the design of small-format tiles with high-added value.