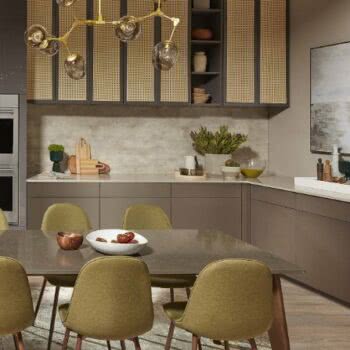 REHAU RAUVISIO ferro™ Metallic PET Surface Line Adds a Timeless Touch
Leesburg, VA – In response to the growing trend toward metallic surfaces, REHAU launches its new RAUVISIO ferro™ metallic PET surface line. Drawing from the elemental mysteries of fire and the smoldering beauty of metal forged in the flames, RAUVISIO ferro is a luxurious, metal-inspired surface that adds a touch of timeless elegance and a spark of sophistication to any home.
From antiquity to modernity, metals have shaped our way of living at every turn. With its humble origins, metal speaks to history, to hearth and home, to elemental strength, yet it also evokes cutting-edge sophistication and sumptuous style.
Cast in refinement, in shades both warm and cool, ancient and modern, RAUVISIO ferro metallic PET surface is a brushed metallic print topped with a clear PET film and UV-cured lacquer that is both durable and supremely stylish – the perfect addition to today's home spaces.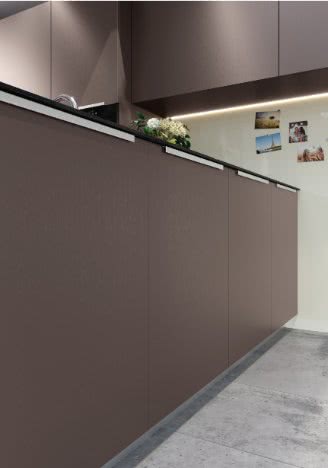 A Timeless Palette
From ancient, warmer metals, borne out of the embers of molten fire, to ultra-modern, silvery finishes that gleam and glimmer with sophistication and style, RAUVISIO ferro offers a palette of stately, highly touchable colors that represent refinement, elegance and a rich sense of history.
The color palette, covering the spectrum from past to present to futuristic, includes: Aegean Anchor, which is somewhere between a stainless steel and champagne hue with a vertical brush look; Gilded Arrow, which features an oiled bronze appearance with a vertical brush; Empire Skyline, which showcases a titanium look with a slight blue hint and a vertical brush; and Metro Motion, which boasts the look of aluminum with a circular brush.
"From the rings around our fingers, to the ways we get to our favorite places, metals have long shaped our way of living," said Jesse Collins, REHAU director of marketing and communications. "Today's cool and classic metallics shimmer and shine like a beacon to the future, while fiery metallic hues evoke a sense of ancient relics, treasures and traditions. In this way, RAUVISIO ferro brings the rich history of metals to add elegant, ageless finishes into our spaces."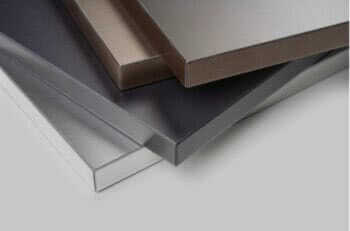 Durably Designed
While metal foil laminates can easily be pierced or dented due to malleability of material, RAUVISIO ferro is a solid PET with no delamination, giving it a forever "like new" appearance, even in high-moisture environments. A metallic printed clear layer over a base color layer provides superior scratch, mold, chemical and fingerprint resistance, making it easy to maintain and durable enough for even the most active of families. The lacquer is embossed with a roller to give it the metallic textured finish, providing rich color and added design depth.
The soft-to-the-touch surface is laminated on both sides of a high-quality, super-refined engineered MDF core that is CARB2, TSCA Title VI certified. All components are provided with perfectly matched REHAU LaserEdge™ for a seamless installation process.
"The double-sided, high-end monolithic panel elevates any design," Collins noted, explaining that, "While RAUVISIO ferro will appeal to designers and homeowners for its elegant appearance, worry-free durability and irresistibly touchable feel, it's equally appealing to shops, since it's easier on equipment than real metal and can be processed with normal woodworking machinery."
About REHAU
REHAU is the premium worldwide brand for polymer-based innovations and systems in construction, automotive and industry. The company generates continuous growth through its expertise and innovative capabilities in materials development, systems design and surface technology. Approximately 20,000 employees at more than 170 locations around the world ensure success of the independent, privately held company.