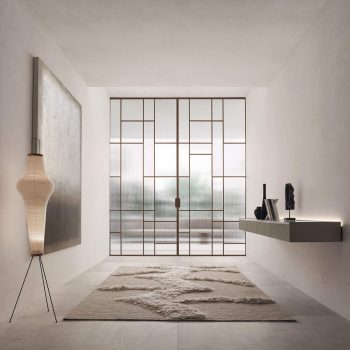 Rimadesio's New Maxi Sliding Panel System Provides Dimension and Aesthetic Refinement to Large and Wide Spaces
Maxi is the new sliding panel system designed by Giuseppe Bavuso: it is the ninth product in the sliding panels range, after Velaria, Sail, Daimon, Soho, Stripe, Siparium, Graphis Light and Graphis Plus.
An always custom-made proposal, capable of being declined even on large dimensions, with panels reaching 3500 mm in height and 2000 mm in width. The wide design flexibility allows to always create customized compositions, suitable for domestic, professional, hospitality and retail contexts.
Undisputable protagonists of the system, the glass surfaces are marked by an irregular aluminium grid pattern with independent glasses, designed to give maximum strength and stability to the structure. The result is a rigorous but light design which enhances the qualities of the glass, thus boosting its subtle transparencies, the play of light or the reflections, in a mix of finishes with endless aesthetic solutions.
"Maxi is a partition system designed for wide spaces. An essential and refined solution, capable of separating but not dividing, thus creating fluid spaces where light dominates," explained designer Giuseppe Bavuso.
Like all the sliding panels in the collection, Maxi uses the patented Rimadesio sliding rail, which allows perfect leveling and absolute silence, ensuring calibrated and safe movements, even in large compositions.
FINISHINGS
The Maxi sliding panel can be customized in materials and finishes: the glasses are available in the rete version, sahara transparent, diamante transparent, coloured transparent, reflective, satined, coloured satined, sahara satined, mirror and in the forty-six glossy lacquered colours of the Ecolorsystem* collection.
The glasses are available in a single finish, or include a second finish for some modules, for an increasingly personalized aesthetic result.
The aluminium structure is available in walnut, heat-treated oak, bronzo, grafite, brown and black finish.
SUSTAINABILITY
Like all Rimadesio products, also the Maxi sliding system is made by following the principles of the safeguarding of the environment and its resources, through a production process powered by solar energy, aimed at the creation of long-lasting goods.
Maxi is made by using glass and aluminum, Rimadesio materials of excellence, 100% recyclable and actively recovered in the production cycle, with a view to a circular economy that reduces waste to zero.
Ecolorsystem* is the exclusive range of lacquers used by Rimadesio and purely composed of water-based paints, which guarantee the total absence of substances harmful to man and the environment.
Rimadesio packaging is produced just-in-time using only recycled and 100% recyclable cardboard. The minimum waste produced by the packing machine is mechanically compressed and sent to neighboring paper mills for the production of high-quality recycled paper, with a low environmental impact process.
The Maxi sliding system can be completely disassembled at the end of its life. This peculiarity ensures the proper recycling of each component, in compliance with international standards on environmental protection.
About Rimadesio
Rimadesio produces systems for sub-dividing environments and for the architectural definition of interiors. Doors, sliding panels, shelving units, walk-in wardrobes and a collection of complementary furniture: an offer which is continuously increasing in size and which is constantly developing in its style. Linear and functional designs where the simplicity of a concept is elaborated through an exceptional level of technical competence. Rimadesio's aim is to continue to develop its own design culture and productive technology in order to be able to offer functionally innovative ideas which are exclusive from an aesthetic point of view and can ensure maximum reliability over time.