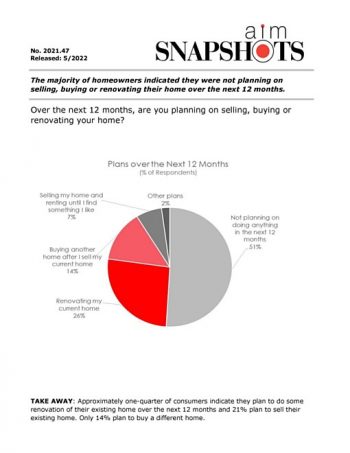 Sell, Buy, Renovate… Or All Three?
AIM Survey Reveals 2022 Top Home Trends
After seeing year-over-year increases in home sales and renovation activity since 2018, Accountability Information Management (AIM) conducted an online survey in December 2021 to take a closer look at the specifics of exactly what homeowners had planned for 2022.
Nearly half of homeowners had plans to do "something."  Although 51% of those responding stated they had no plans to buy, sell or remodel their current homes, approximately 49% indicated they would pursue one or more of these actions in 2022 with painting, flooring replacement and kitchen/bathroom upgrades earning top spots on homeowner wish lists. Drilling down into more specifics, the AIM survey further discovered:
Kitchen upgrades such as new countertops, cabinets and appliances were among the most popular projects mentioned – and around 20% of homeowners said they want to add islands to their kitchen.
In bathroom remodeling projects, replacing existing faucets and fixtures were frequently mentioned, along with upgrading/adding walk-in showers.
In keeping with the growing older adult population, homeowners also noted the need to incorporate aging-in-place design features such as grab bars and other accessibility features.
The number of projects and spending continues to increase. AIM research also supported other industry reports which suggested homeowner renovation spending in 2022 would increase for the first time since 2018. After averaging $10,000 for the past three years, the average planned spend is expected to jump by 50% – a number corroborated by AIM's research which showed consumers planned to spend $15,000 (or more) in 2022 while completing an average of six different renovations.
About Accountability Information Management
Accountability Information Management, Inc. (AIM) is a full-service B2B marketing research and information management company specializing in innovative, custom-designed research and analytical data services to support and enhance clients' strategic business decisions. AIM enables clients to measure critical market parameters in order to stay connected to their customers, the competition, suppliers and the ever-changing market environment. AIM has been conducting B2B and B2C building industry research for more than 25 years.
For more information, visit www.a-i-m-com.