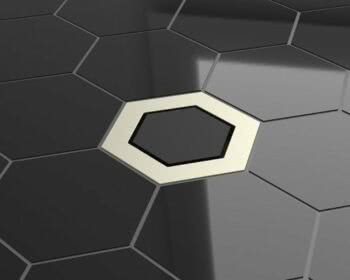 Serenity™ Hex Shower Drain System Expresses the Extraordinary
In a world with infinite possibilities, why settle for ordinary?
The Serenity™, an OS&B partner division, new Hex drain captures the extraordinary in a geometrical, beautifully crafted and undeniably unique shower drain system. Measured at 5-3/4" x 5-3/4", the Hexagonal Trim features a 2" threaded drain outlet.
Available in four trending finishes, including Brushed Gold and Matte Black, the perfect symmetry of this center drain is not only aesthetically pleasing, it also boasts superior craftsmanship that can be relied upon for years to come.
Designed for use with tile shower bases, the Hex drain trim has a solid brass construction. It features a removable flat trim insert and removable stainless steel hair catcher for easy cleaning.
All flat trims are certified to ASME A112.18/2/CSA B125.2 and bear the "cCSAus" mark. Plus, they comply with the requirements of the IPC and NPC codes.
For more information, visit serenity.luxury.
About OS&B®
OS&B®, founded in 1975, is a leading Manufacturer and Distributor of Plumbing Products. Located in Oakville Ontario, OS&B is Canada's largest manufacturer and Distributor of Waste & Overflows, Traps, Lavatory Drains, Tubular Brass Fittings and various other plumbing parts. OS&B® services the Wholesale and Retail Industries. OS&B manufactures for and supplies to some of the largest OEM brands in the world offering in-house product design and testing in order to address specific needs and requirements. Exclusive trademarks of OS&B® include Clicker™, Cable-Drive® and Fill&Drain™. OS&B® has earned a reputation for offering innovative and high-quality products at competitive prices. OS&B products come in many of today's most popular finishes, including Brushed Nickel, Pearl Nickel and Venetian Bronze.
About Serenity™
In 2016, OS&B® expanded upon its success in traditional plumbing and leveraged its core competencies to create a luxury shower drain that would appeal to both installer and designer alike.  With a premium product assortment in mind, Serenity™ drain was born.  Boasting a beautiful perimeter edge and extensive finishing options, the Serenity™ drain not only looks attractive, its quality craftsmanship is something that can be relied upon for years to come.