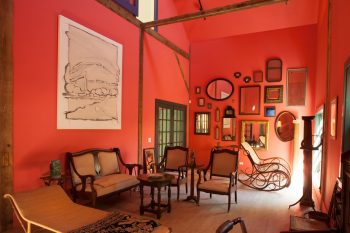 Seven New Sites Accepted into Prestigious National Trust for Historic Preservation HAHS Program
Artists' Studios in California, Colorado, Georgia, Massachusetts, New York, Tennessee, and Washington join prestigious national network of historic sites.
Stockbridge, MA — The National Trust for Historic Preservation announced today that seven new sites have been accepted into their prestigious Historic Artists' Homes and Studios (HAHS) program. All seven sites are the preserved homes and studios of American artists that represent the rich diversity of our nation's artistic legacy and provide a site-specific depiction of art history.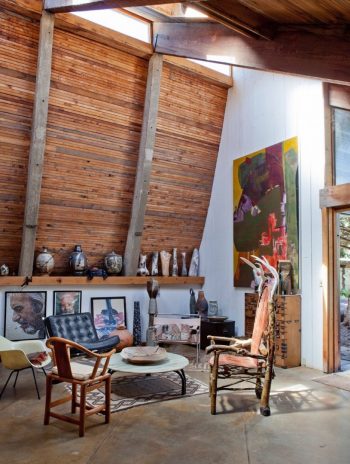 The sites selected demonstrate the active work of HAHS and its leadership to expand and diversify representation within its membership. This includes identifying and accepting more sites representing the legacy of women, artists of color, Indigenous artists, LGBTQ+ artists, as well as self-taught artists. This commitment to diversity also requires a re-examination of the boundaries created by traditional definitions of a home or studio, to include artists, cultures and practices that do not fit into those paradigms.  To advance that goal this year, HAHS has accepted, for the first-time, artist-built vernacular environments into the program.
Two of these sites, Pasaquan in Georgia, and the Noah Purifoy Outdoor Desert Art Museum of Assemblage Sculpture in California, will have their annual membership dues supported through a generous donation by the Kohler Foundation, a leader in the preservation of artist-built environments and a champion for self-taught artists.
"These sites preserve the complex stories of a wide array of artists, whose working methods, chosen media and personal narratives often included social activism and beautifully illustrate the sheer diversity of human expression through the universal language of art," said HAHS Senior Program Manager, Valerie Balint. "We are delighted to have them join this peer group of dynamic and innovative sites throughout the country."
"By giving equal agency to stories that range from world-renowned illustrator and cultural icon Norman Rockwell to largely self-taught artists, such as Robert Dash, HAHS and the National Trust are helping reframe the hierarchy and dialogue around our nation's art history," adds Rena B. Zurofsky, Interim Vice President for Historic Sites at the National Trust.  "With the inclusion of African American artists, such as Noah Purifoy and James Washington; LGBTQ+ activists, such as Eddie Owens Martin (also known St. EOM); and women artists, we continue to expand the membership to bring on sites whose compelling stories increase racial diversity and gender equity."
The introduction of these seven new sites also increases the geographic representation of HAHS to include 25 states in the nation and expands the portfolio of twentieth-century sites within the network, creating a rich and balanced representation of nineteenth-century artist spaces.
The seven new members of HAHS are:
Westwood, the home and studio of painter and educator, Adelia Armstrong Lutz (1859–1931) in Knoxville, TN, operated by Knox Heritage;
Outdoor Desert Art Museum of Assemblage Sculpture the sprawling artist-designed environment created by Noah Purifoy (1917–2004) in Joshua Tree, CA, stewarded by the Noah Purifoy Foundation;
James W. Washington Home, a holistic campus that includes the home, studio, and artist-designed landscape of artist, sculptural carver, author, and activist, James W. Washington, Jr. (1908–2000) in Seattle, WA, operated by the Dr. James and Mrs. Janie Rogella Washington Cultural Center and Foundation;
Norman Rockwell Studio at the Norman Rockwell Museum, the final studio space for iconic illustrator, Norman Rockwell (1894–1978) in Stockbridge, MA;
Soldner Center for the Arts and Innovation, the former artist-designed compound and artistic enclave created by environmentally conscious educators and artists, ceramicist Paul (1921–2011) and painter Ginny Soldner (1924–1995) in Aspen, CO, stewarded by their daughter, Stephanie Soldner;
Pasaquan, the immersive and multi-culturally inspired artist environment of self-taught artist and LGBTQ+ activist Eddie Owens Martin (St. EOM) (1908–1986) in Buena Vista, GA operated by Columbus State University and the Pasaquan Preservation Society, and;
Madoo Conservancy the home, studio, and extensive artist-designed gardens, of artist, poet and gardener, Robert Dash (1931–2013) on the East End of Long Island in Sagaponack, NY.
Also notable in coming weeks, Historic Artists' Homes and Studios and the National Trust for Historic Preservation will launch a new category of site membership for the first time since the program began in 1999.  This new category will create an Affiliate Membership that will broaden pathways for entrance into the program for sites that may not follow traditional models of operation, interpretation, or visitation.  The selection of members in this new category will be conducted through an "Open Call" process which will launch later this spring.  Please stay tuned for future announcements about this initiative and see https://artistshomes.org/ for more details.
About The Historic Artists' Homes and Studios Program
Historic Artists' Homes and Studios network is a peer-to-peer coalition of sites that brings these museums together to conserve the legacy of creativity in the visual arts in the United States. Since its establishment by the National Trust for Historic Preservation in 1999, HAHS has developed into a successful community of practice, working with 55-member sites that more than one million visitors in nearly every part of the United States. This network of sites leverages the knowledge and experience of individual members to benefit the entire coalition in critical areas, including historic preservation, visitor and community programming, and communications. artistshomes.org
About The National Trust for Historic Preservation
The National Trust for Historic Preservation, a privately funded nonprofit organization, works to save America's historic places.  https://savingplaces.org/