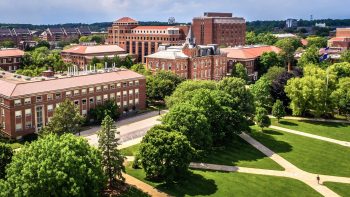 SkyWater Technology and Purdue University to Build New Semiconductor Facility that Will Create Hundreds of Jobs, Revitalize U.S. Industry
WEST LAFAYETTE, Ind. – The announcement by SkyWater Technology that it plans to open a $1.8 billion state-of-the-art semiconductor manufacturing facility in Discovery Park District at Purdue University marks a huge step forward for the American semiconductor industry, Purdue's thriving innovation district and the university's continued emergence as one of the principal drivers of the Indiana economy.
SkyWater (NASDAQ:SKYT), which expects to create 750 new direct jobs within five years after it opens, joins the likes of Saab, Rolls-Royce, major facilities and partnerships in hypersonics, Schweitzer Engineering Laboratories, Wabash, MediaTek and others in Discovery Park District, one of the most attractive and innovative environments in the Midwest.
"Today's announcement marks a dramatic advance toward multiple strategic goals of Purdue's last decade: enriched academic and career opportunities for our students; new research possibilities for our faculty; a transformed, more attractive environment on and adjacent to our campus; and the latest demonstration that Purdue and Greater Lafayette are now the hot new tech hub of a growing, diversifying Indiana economy," said Purdue President Mitch Daniels. "Even for the place that specializes in them, this constitutes a genuine giant leap."
Discovery Park District, a 400-acre, mixed-use development adjacent to Purdue University's West Lafayette campus, provides investing companies access to Purdue faculty experts in the semiconductor field, highly sought-after graduates prepared to work in the industry and vast Purdue research resources. In just its fourth year of existence, Discovery Park District offers proximity and access to interstate and state highways, and all the advantages of Indiana's highly ranked business climate. Hundreds of jobs have been added to the local and regional economy, with companies choosing to locate next to the university's cutting-edge research facilities, collaborators and primary investigators; a large-scale, high-quality talent pipeline; excellent cost of living; and business operations with access to the Wabash River's strong water supply.
The unique collaboration that resulted in the redevelopment of West Lafayette's State Street corridor was the key first step in creating Discovery Park District. With this new investment from SkyWater, the funds needed to pay off the obligations to the 231 Purdue TIF district, created as part of the State Street project, will be in hand more than a decade in advance.
Doing its part to address the global semiconductor shortage has been a priority at Purdue. In May, Purdue launched a comprehensive set of interdisciplinary degrees and credentials in semiconductors and microelectronics. The Semiconductor Degrees Program (SDP), the suite of innovative Purdue degrees and credentials, will educate both graduate and undergraduate students, in residence and online, enabling a quick ramp-up of skilled talent. In late June, Purdue began a partnership with MediaTek Inc., a leading global fabless chipmaker, to open the company's first semiconductor chip design center in the Midwest, to be housed in Discovery Park District.
The United States developed microchip technology in the 1950s, and its manufacturing output was 37% of the total global output in 1990. However, as manufacturing moved to East Asia — countries including China, Japan, South Korea and Taiwan — the U.S. global output of semiconductor manufacturing fell to 12% in 2021. The shift could lead to problems in the digital economy if the supply chain is disrupted.
As a solution, the U.S. Congress introduced the Creating Helpful Incentives to Produce Semiconductors for America Act, or CHIPS for America Act, on June 11, 2020. It supports the nation's research and development, manufacturing and supply chain security of semiconductors.
Indiana Gov. Eric Holcomb praised the introduction of the CHIPS for America Act and urged Congress to fund it. He has noted the state's strength in advanced manufacturing, the strategic partnership with the Naval Surface Warfare Center Crane to assure trusted microelectronics, and a Department of Defense initiative led by Purdue University to develop workforce talent in the semiconductors industry.
"Days like today prove that Indiana's investments in the economy of the future, infrastructure and talent development are cultivating an environment that enables innovators such as SkyWater to choose Indiana," said Holcomb. "Our success and our mission to support industries of the future would not be possible without the incredible partnerships with our globally ranked universities, like Purdue University, helping us attract and retain quality, innovative talent."
Building the new 600,000-square-foot, state-of-the-art semiconductor manufacturing facility, which includes 100,000 square feet of cleanroom space, will depend on SkyWater receiving funds from the CHIPS Act. American jobs created will focus on research and design engineering, technology development, operations engineering, maintenance and technical support, and technicians.
About Purdue University
Purdue University is a top public research institution developing practical solutions to today's toughest challenges. Ranked in each of the last four years as one of the 10 Most Innovative universities in the United States by U.S. News & World Report, Purdue delivers world-changing research and out-of-this-world discovery. Committed to hands-on and online, real-world learning, Purdue offers a transformative education to all. Committed to affordability and accessibility, Purdue has frozen tuition and most fees at 2012-13 levels, enabling more students than ever to graduate debt-free. See how Purdue never stops in the persistent pursuit of the next giant leap at https://stories.purdue.edu/.
About SkyWater Technology
SkyWater (NASDAQ: SKYT) is a U.S.-owned semiconductor manufacturer and a DMEA-accredited Trusted supplier. SkyWater's Technology as a ServiceSM model streamlines the path to production for customers with development services, volume production and heterogeneous integration solutions in its world-class U.S. facilities. This pioneering model enables innovators to co-create the next wave of technology with diverse categories including mixed-signal CMOS, ROICs, rad-hard ICs, power management, MEMS, superconducting ICs, photonics, carbon nanotubes and interposers.  SkyWater serves growing markets including aerospace & defense, automotive, biomedical, cloud & computing, consumer, industrial and IoT. For more information, visit https://www.skywatertechnology.com/.