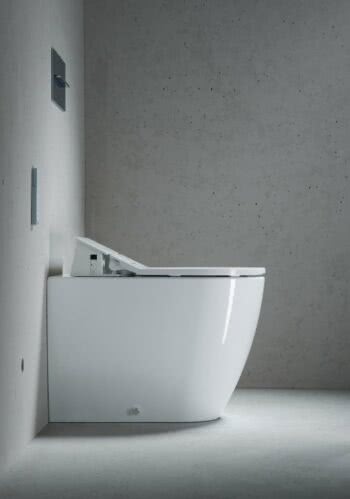 Slip Into Fall with Duravit's SensoWash Slim…Now Featuring a Heated Seat
As the weather begins to change and renovation projects begin to move from the outdoor, in, we wanted to highlight Duravit's SensoWash® Slim shower-toilet as the perfect bathroom solution as we slip into fall.  Many of us think of heated floors or towel bars as a luxury solution to covet in the bathroom in the colder months, but have you ever experienced the magic of a heated toilet seat? The SensoWash® Slim toilet with heated seat functionality is a covetable cozy and hygienic solution that offers a new level of comfort in the bathroom space. There is simply nothing more luxurious than a warm seat to greet you in the morning or end your day with in the evening – it is coziness personified in a bathroom solution.
At an accessible price point, Duravit's SensoWash® Slim is characterized by its slim lid-seat combination that pairs across 13 Duravit toilet designs. Now available with heated seat functionality, this shower-toilet solution from Duravit is perfect for those who value purism, hygiene and simplicity. Featuring all of the advantages of a shower-toilet, SensoWash® Slim offers ComfortWash, RearWash and LadyWash cleaning functions alongside a soft-close lid, night light and child safety lock all of which are easily controlled by a sleek remote. Offering a range of design options, SensoWash® Slim can be paired with 13 of Duravit's toilet designs across the brand's ME by Starck, Darling New, DuraStyle, Starck 2 and Starck 3 toilets, all of which are available with Duravit's germ-fighting HygieneGlaze 2.0 which kills 99.999% of bacteria after 24 hours (unprecedented across the industry).
About Duravit Founded in 1817 in the heart of Germany's Black Forest, Duravit is a leading manufacturer of designer bathrooms. Duravit operates in 130 countries worldwide and has been honored with numerous national and international awards for its innovations in design and technology. The company's collaborations with internationally renowned designers such as Philippe Starck, Phoenix Design, EOOS, Norman Foster and sieger design yield forward-thinking, environmentally conscious and award-winning products that bring the bathroom to life. Duravit USA, Inc. headquarters are based in Duluth, GA. For more information on Duravit or to find a local distributor, visit www.duravit.us or call 888-DURAVIT.