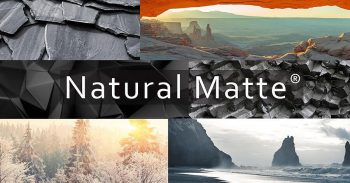 Steelscape Ultra-Matte Colors Revolutionize Metal Roofing and Siding
Kalama, WA –  Subtle, refined, and revolutionary, Steelscape launches Natural Matte, an innovative range of ultra-matte exterior finishes for metal roofing and siding. Inspired by the organic matte surfaces that are all around us, this range of six refined colors delivers a balanced, non-reflective light interaction for ultimate design flexibility.
Natural Matte uses microscopic light-disruptive paint technology to create the new benchmark for ultra-matte metal finishes. Exclusive to Steelscape, Natural Matte eliminates unwanted shine and glare without sacrificing color depth or finish durability. "Natural Matte enables building designers and homeowners to use metal roofing and siding in entirely new environments," states Richard King, Product Manager, Steelscape. "Including those that have traditionally restricted the use of metal." From new custom builds to home re-roofs, Natural Matte promotes the optimum integration of metal with other materials and environmental features.
Based on proven paint technology, Natural Matte offers a delicate satin texture, a 40-year finish warranty and a 30-year warranty against color fade. Combining a refined aesthetic with lifelong performance, Natural Matte is the ideal finish for metal roof and siding products including standing seam roof panels and flush architectural wall profiles.
About Steelscape
Steelscape is a west-coast manufacturer of coated and painted metal for construction products. Each year they produce more than 400 million pounds of painted steel, which is transformed into a wide range of finished products including, metal roofing and siding, decking, and framing. They operate out of two advanced facilities in Washington and California. The Rancho Cucamonga, California facility was commissioned in 1968 and Steelscape expanded to their Kalama Washington plant in 1997. Today Steelscape is jointly owned by two leaders of the modern steel industry, Nippon Steel Corporation and BlueScope Steel Limited. Steelscape is committed to the ongoing development and application of pre-painted metal and is a proud member of the National Coil Coater's Association (NCCA).