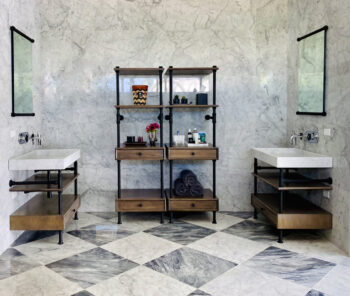 Stone Forest's Elemental FACET Collections Provide Unique, Unlimited Modular Bathroom Design Combinations
Bathroom Vanities, Storage, Mirrors and Lighting Provide a Wealth of Complementary Design Options
Santa Fe, N.M. ­– Stone Forest expands upon its innovative Elemental collection with the introduction of Elemental FACET. Stone Forest Elemental is a unique, modular concept that allows unlimited combinations of integral sinks, wood drawers and stone, steel or wood shelving. Elemental FACET offers designer-inspired fittings including brass legs with knurled fittings that luxuriously elevate Elemental's nature-based components and are available in aged brass, polished nickel, graphite or matte black. The updated collections are available for bathroom vanities, storage and accessories.
The NEW Elemental FACET Collection
Believing that no detail is too small, Stone Forest collaborated with designer Tod Babick of Studio Babick to create forged brass fittings with architectural, jewel-like detailing. The collection was inspired by ancient Greek architecture. "My intention was to bring to the collection some of the richness of traditional ornament, which has always been based on nature," states Tod Babick, principal and founder of Studio Babick. "Coin knurling was incorporated to maintain a family relationship with Elemental."
"We love the idea of creating collections that make use of our 30 years of expertise with natural materials and how our product designs complement the addition of Babick's exploration and nod to architectural details," agrees Michael Zimber, founder of Stone Forest. "The combination when seen in all of its configurations is striking."
Elemental FACET Vanities
Elemental FACET offers limitless vanity design flexibility as designers can specify Stone Forest's exceptional stone bath sinks in vessel, console or ADA configurations with matching storage (shelves or drawers) and the newly launched Elemental FACET fittings in four finishes. Stone Forest's Ventus, Terra, Trough, Lumbre and Milano sinks can all be paired with the new Elemental FACET fittings to form one-of-a-kind vanities. MSRP price ranges from $3,152 to $7,587.
Elemental FACET Storage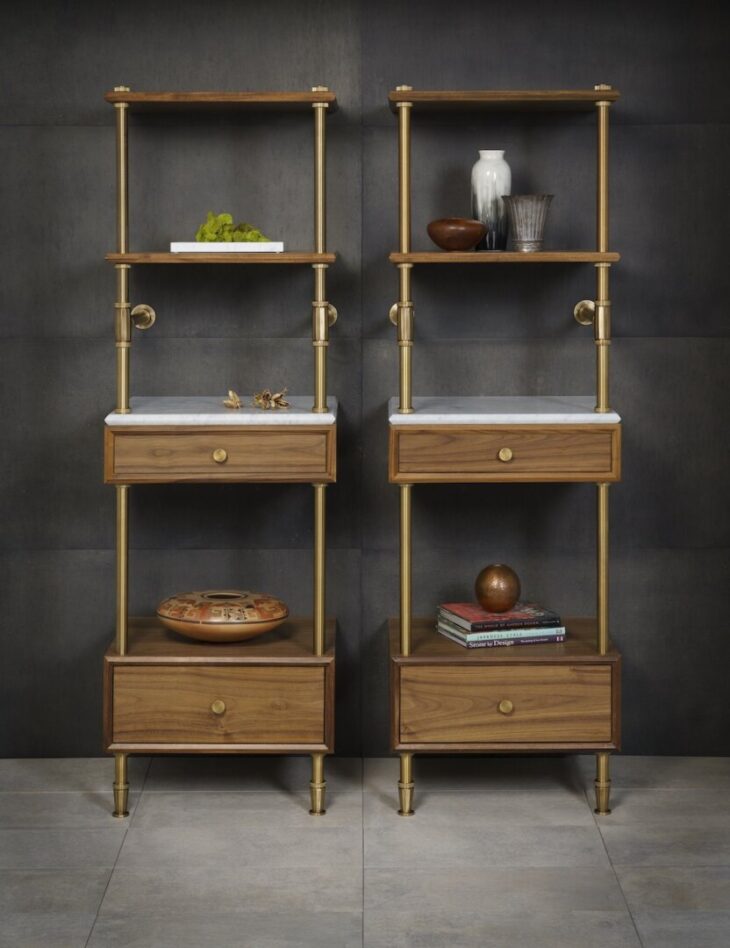 Bridging the gap between home furniture and the move towards defining more spaces as open and livable, Stone Forest's Elemental FACET Storage collection provides innumerable design options. Segueing easily and elegantly from offices, living and dining rooms, to bedrooms and bathrooms, this unique modular system adds style and character to any space. From classic side tables to multi-tiered etageres, designers and homeowners can combine elements to configure their most functional and beautiful furniture. Wood shelves are available in cement gray or walnut wood. Stone Shelves are available in Carrara Marble or Antique Gray Limestone. The folded metal tray is available in Tuxedo Gray Metal. Drawers are available in two heights: 6" or 10" and in either cement gray or walnut wood. MSRP ranges from $5,670-$6,734.
Elemental Accessories
Elemental FACET incorporates two statement accessory pieces including a Tee Sconce and Mirror.
Elemental Tee Sconce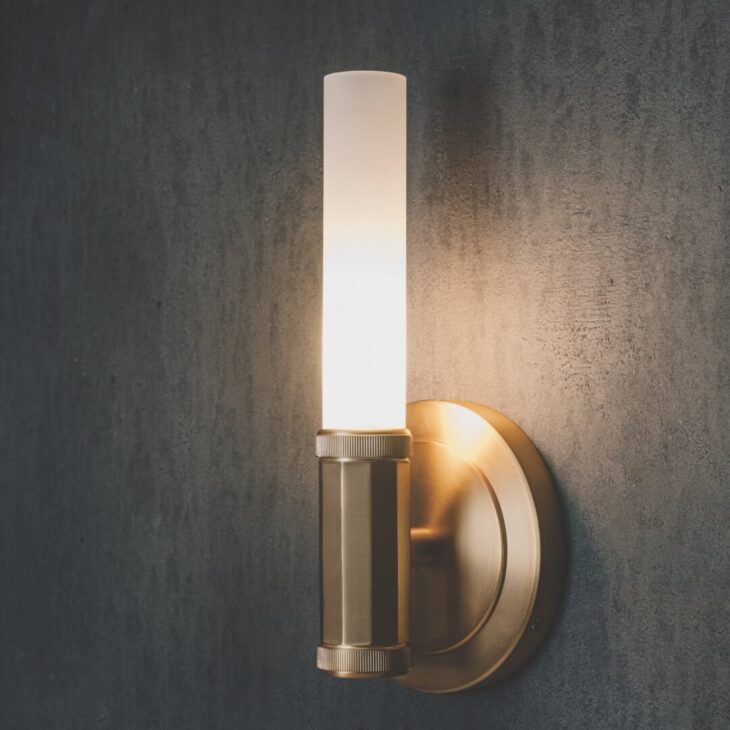 The perfect sconce in size, scale and design. Accented with knurling detail, the sconce completes the transitional meets industrial space. The fittings are available in either Classic or FACET and aged brass, polished nickel or matte black. Dimensions: 11" h x 4"d. Wall escutcheon is 5.5" in diameter. MSRP: $575-585, depending on finish.
Elemental Mirror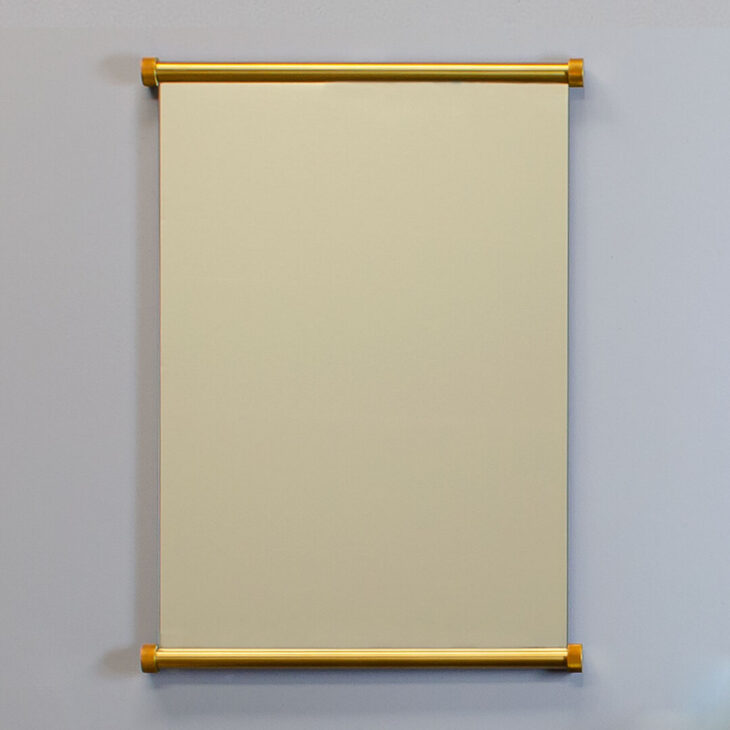 The finishing touch to a perfectly appointed bathroom design. The fittings are available in either Classic or FACET and aged brass, polished nickel or matte black. Dimensions: 25.75" w x 36.62" h. MSRP: $850.
About Stone Forest
Stone Forest® has been creating contemporary elements for kitchen, bath and landscape design using natural materials since 1989. Based in Santa Fe, New Mexico the company has a unique understanding of the tolerances of different stones and precious materials. All of their architectural designs are sculpted from materials such as limestone, sandstone, marble and onyx. Stone Forest's collections include an extensive selection of vanity, vessel and pedestal sinks, bathtubs, furniture, fountains and outdoor sculptures. Raw stones are obtained from quarries located around the world, in countries such as Australia, Italy, Spain and Brazil. The artisans at Stone Forest let the materials guide the designs, producing products that are a pure expression of each material's inherent beauty. Stone Forest has won numerous awards including the Good Design® Award and Interior Design magazine's "Best of Year" Award. Visit Stone Forest at www.stoneforest.com.