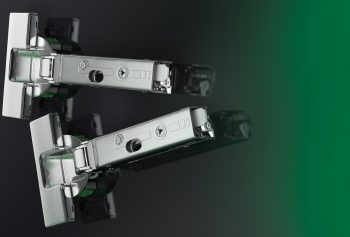 Style + Stability: New Tiomos Hinge System from Grass America
Kernersville, NC – Grass America, a leading supplier of functional hardware to the cabinet industry, has launched the Tiomos series, an evolutionary hinge system for cabinets and furniture. The stylish new series features a concealed kinematic mechanism inside the hinge arm which makes doors easier to open and offers improved alignment to reduce gaps.
The Tiomos series also delivers soft-close door closing with adjustable damping technology that assures smooth, even closing until the door is completely closed regardless of door size and weight. In addition, the unique kinematics minimize gaps to facilitate exceptionally narrow and even reveals which is particularly helpful to designers creating high-quality, luxury kitchen designs.
With the Tiomos hinge system, precise vertical and depth adjustment is continuous and self-locking using a worm gear principle. The third dimension is equally easy to adjust for setting the overlay and the stop limit. Tiomos is ideal for a variety of applications, from standard doors to wide doors, and for both frameless and face frame applications. A wide range of specialty hinges are also available for applications such as pie-cut corners, blind corners, negative angle corners, thick doors, and thin doors.
About Grass America
Grass America is a quality-driven manufacturer of hinges, drawer slides, lifters, and drawer systems. The company's first-class movement systems keep America's kitchens, baths, and office facilities operating at their best. Grass America's manufacturing facility in Kernersville, North Carolina, sells functional hardware and accessories throughout the US, Canada, and Mexico via 130 distributor locations and to most of the leading kitchen cabinet manufacturers. Learn more at www.grassusa.com.