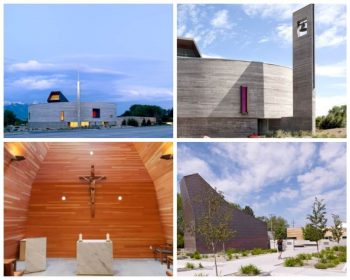 The Architecture of Prayer Exhibition: A Survey of Contemporary Church Design
The Architecture of Prayer Exhibition at The Center Art Gallery represents an international survey of the contemporary church. Drawings and travel photography of historic church buildings will be presented in dialogue with newer projects contributed by more than 40 global architecture firms, including Sparano + Mooney Architecture.
Running now through April 7, 2023 at Calvin University, the exhibition represents a selection of the most thoughtful liturgical architecture of the 21st century, contributed by internationally recognized practices and local firms deeply embedded in their communities. In addition to Sparano + Mooney Architecture, the exhibition will showcase notable projects by Adjaye Associates, Olson Kundig, Shigeru Ban Architects, Mario Botta Architect, Studios Architecture and Tatian Balboa Studio, among dozens more.
Sparano + Mooney Architecture's featured project is St. Joseph the Worker Catholic Church + Day Chapel, located in West Jordan, Utah. The program for the space includes a sanctuary with seating for 800, indoor and outdoor gathering spaces, church offices and a chapel for daily worship. The formal organization of the main worship space is based on two offset ellipses. The poché space between the ellipses creates a liturgical function zone housing the Chapel of the Blessed Sacrament, a reconciliation room, sacristy and prayer niches for statuary and religious art. The church's elliptical form was conceived of as a true gathering geometry without corners, facilitating active participation from the community that will congregate there.
Light is brought into the sanctuary through a sandblasted, glazed band forming the base of the building, and through a large north-facing aperture (lantern) over the altar area. The upper portion of the ellipse contains eleven clerestory windows each relating in form, location and/or color to the twelve apostles. The twelfth opening is a skylight aperture over the baptismal font. The windows are all of colored, glazed panels, an affordable alternative and abstracted expression of traditional stained glass.
For more information, visit the Center Art Gallery or @centerartgalleryatcalvin.
About Sparano + Mooney Architecture 
Sparano + Mooney Architecture is known for creating compelling spaces that connect people with their communities and landscape. The firm has a reputation for delivering landmark designs for arts and cultural facilities (museums, concert halls, film/theater projects) and cultural centers for civic and non-profit organizations, as well as residential homes set in unique landscapes. Founders Anne Mooney, AIA, NCARB, LEED AP, and John Sparano, FAIA, have both been recognized with the prestigious AIA Western Mountain Region Silver Medal, the highest award given to an architect in this region of the United States.