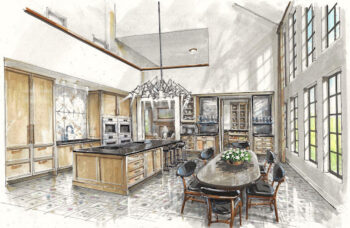 The Gloucestershire: A Cook's Kitchen & Scullery to Be Displayed at Kips Bay Decorator Show House Dallas
DALLAS, TX – Kurt Bielawski, Dallas-based designer and founder of the firm MORE+ Design Build, is pleased to announce participation at the fourth edition of Kips Bay Decorator Show House Dallas, opening on November 2, 2023.
Bielawski will design The Gloucestershire: A Cook's Kitchen & Scullery, joining celebrated interior designers from across the country who will be reimagining a 5-bedroom home in the Dallas neighborhood Old Preston Hollow's Sunnybrook Estates.
As visitors enter the spacious chef's kitchen and adjoining scullery, they'll find themselves transported to a meticulously restored European estate kitchen, where the original tile flooring bears the patina of the years, akin to marble countertops at European bistros. Warm wood cabinetry features glass paneling to highlight the contents, reminiscent of a vintage apothecary. Built-in compartments for produce are meticulously organized by the in-house chef.
"Despite the fact that people like 'clean' designs, I do think they want more individual character. That's what we're trying to do here: take exciting elements that give the kitchen and scullery more personality than a 'staged' space," said Bielawski.
An expansive island of natural-hewn wood holds gas and induction burners, a griddle, and wok induction and the countertops shine in Artistic Tile's Calacatta Rosa.
Hanging from the vaulted ceiling overhead, a large custom-designed industrial-style chandelier provides adjustable light for cooking.
To preserve the vintage look, modern appliances from Jenn Air's Rise collection are wrapped in cabinetry and painted warm khaki and terracotta hues. Throughout, millwork wears the character of its original wood, which pairs with two-toned walls in Benjamin Moore's Lime White Flat and Brandy Cream Flat.
On the back wall, a neatly concealed area encompasses the dishwasher, trash bins, and a sink by Kohler. Leading from the main kitchen to the working pantry are a sink – also from Kohler – a second dishwasher, and an under-counter fridge with ice. The pantry has ample cabinet space to store small appliances and equipment to keep them off the countertops in the main kitchen.
A designated coffee bar is posted between the two spaces. Blinds and shades from The Shade Store control the daylight in the room. Furniture from Scott & Cooner and kitchenware from Zwilling features throughout. The decked-out island and adjacent seating area allows the chef to be social with guests and makes cooking part of the experience. To complete the design, Modern Matter hardware from the Marcel collection feels contemporary, while the burnished brass finish works in step with our Old-World aesthetic.
One of the designer's favorite features is the kitchen's root vegetable storage cabinet with its lighting and glass shelves. "It's going to be dramatic and wonderful, like nothing I've ever seen in anybody's pantry before," said Bielawski. Hardware from Modern Matter's Marcelle Collection compliments cabinetry in both the pantry and main kitchen.
Kurt Bielawski's participation at Kips Bay Decorator Show House Dallas comes ahead of the launch of his lifestyle brand, KD BIEL, which will focus on curated and custom items that relate to the pleasure of spending time at home.
The 2023 edition of Kips Bay Decorator Show House Dallas will benefit two local charities: Dwell with Dignity, a nonprofit agency dedicated to creating soothing, inspiring homes for families struggling with homelessness and poverty, and the Crystal Charity Ball, an organization whose mission is to aid, support, and make contributions to children's charities in Dallas County.
This year's show is at a 5-bedroom house in Old Preston Hollow, which includes four living areas on 1.7 acres. The property has a pool and outdoor living spaces as well as a 3-car garage with built-in storage.
The event can be visited at ​9446 Hathaway Street, Dallas, November 2nd, 2023 (opening day), November 3rd – November 5th, 2023 (VIP weekend), November 6th – November 15th, 2023 (general admission).
About Kurt Bielawski and MORE+
Through his design firm MORE+, Kurt Bielawski masterfully combines clean architecture with custom, crafted finishes and Modern and contemporary art to create spaces that are both comfortable and livable. With nearly 20 years of experience, Bielawski has overseen hundreds of new home construction and remodel projects for discerning clients throughout Texas. He honed his eye for detail and talent for editing spaces during his years in couture and designer merchandising at Neiman Marcus and Marshall Fields. MORE+ offers client-based design, construction, and interiors with a focus on enduring quality. The firm covers all aspects from inception to project completion. Bielawski's design philosophy is casual, chic, and uncomplicated. When he's not working, he fuels his passion for travel, fashion, and cooking. moredesignbuild.com.
About Kips Bay Decorator Show House Dallas
Kips Bay Boys & Girls Club has been celebrating the best of interior design by transforming a luxury Manhattan home into an elegant exhibition of fine furnishings, art, and technology since 1973. In 2020, it launched its newest satellite show house in Dallas, Texas. The highly esteemed design event heads back to the South for its fourth iteration to enlist some of the nation's most talented interior designers to transform a home in Dallas, Texas. kipsbaydecoratorshowhouse.org.