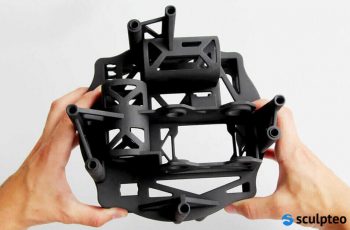 The State of 3D Printing: Moving Toward Greater Sustainability
What role does 3D printing play in helping companies follow their sustainability objectives?  As part of its mission of environmental responsibility, 3D printing attempts to meet manufacturing needs by replacing traditional production resources whenever and wherever the opportunity arises. In the 8th edition of The State of 3D Printing Report, industry leader Sculpteo offers additive manufacturing insights gathered from its annual global survey.
Key survey findings include:
41% of respondents say additive manufacturing is helping them to achieve their sustainable development goals
25% use additive manufacturing to accelerate product development
33% believe that budget is the main factor restricting wider adoption of 3D printing
84% of respondents are optimistic about the future of additive manufacturing
63% of respondents want to identify options for recycling 3D printed parts
Every year, Sculpteo gathers additive manufacturing industry data to identify key trends in this fast-growing industry. This year's report is global in scope, representing responses from Europe (63%) and the USA (23%), and includes information on a major issue of concern to all sectors of industry: sustainability. Additional highlights from the report include:
3D printing is becoming more mainstream in the production of finished parts. 3D printing is now considered as a genuine production tool in its own right. Although it primarily intended for R&D and prototyping, 40% of Power Users are using it for short series production runs, and up to 18% for mass production. The results also reveal that 47% of respondents use 3D printing to produce mechanical parts, while 28% use it to produce consumer goods. This level of growth in 3D printing is clear evidence of the progress now being made in terms of technologies, materials and post-processing solutions.
The role of 3D printing in helping companies achieve sustainability. Of the companies surveyed, 40% are looking for more sustainable methods and materials to use in manufacturing their products. 41% say that 3D printing is helping them achieve their sustainability goals. Another impactful figure emerging from this report: 61% of manufacturers believe that the great benefit of 3D printing lies in the ability to produce on demand. This benefit avoids the efforts and constraints involved in manufacturing a product that may not ultimately be sold. 3D printing also avoids the need for a multitude of different resources, because it avoids the inevitability of using multiple materials to manufacture certain products using traditional techniques. The majority of manufacturers believe that 3D printing helps them implement their sustainability policies by removing the need to carry inventory on site.
A clear focus on innovation and adaptability. Additive manufacturing has the ability to fulfill all product customization needs. In fact, 84% of respondents are optimistic about the future potential of additive manufacturing. When questioned about the potential of 3D printing going forward, 58% of respondents showed themselves to be very optimistic that it will play a significant role in manufacturing, business and personal lives. 26% of respondents felt that 3D printing will impact only manufacturing and business. The flexibility and new innovation opportunities offered by 3D printing have the potential to completely change the rules of manufacturing.
Unleashing the potential of 3D printing and its reliability. Respondents see materials reliability and sustainability as priority goals. 61% of respondents say that on-demand manufacturing is the most reliable and sustainable benefit delivered by 3D printing. 47% of users say that 3D printing reduces the need to use multiple resources, because some designs are impossible to achieve using traditional techniques. According to the results set out in this report, 59% of users want to be able to use more sustainable materials. This demand is being driven by the increasing number of bio-based materials that have been introduced in recent years. According to users, the three aspects of 3D printing reliability and sustainability that most need to be improved are: availability of more options for recycling printed objects, development of more sustainable materials, and greater progress in the reuse of powder using technologies like SLS.
Read the full survey at: stateof3dprinting.com 
About Sculpteo
Sculpteo, a pioneer and specialist in digital manufacturing, offers an online 3D printing service that allows users to securely upload 3D files and select from 75+ materials and finishing options. Professional engineers and technicians produce parts on industrial 3D printing technologies before sending them to businesses and individuals worldwide. Based in Paris and San Francisco, Sculpteo offers on-demand 3D printing and manufacturing at a large scale for start-ups, SMEs, and design studios. For more information: www.sculpteo.com
About BASF 3D Printing Solutions
BASF 3D Printing Solutions GmbH, headquartered in Heidelberg, Germany, is a 100% subsidiary of BASF New Business GmbH. It focuses on establishing and expanding the business under the Forward AM brand with advanced materials, system solutions, components, and services in the field of 3D printing. For further information: www.forward-am.com