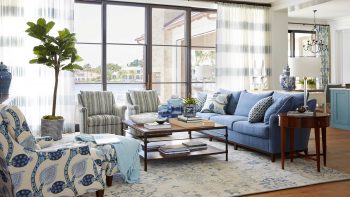 Three Simple Yet Profound Design Tips for Creating a Sanctuary at Home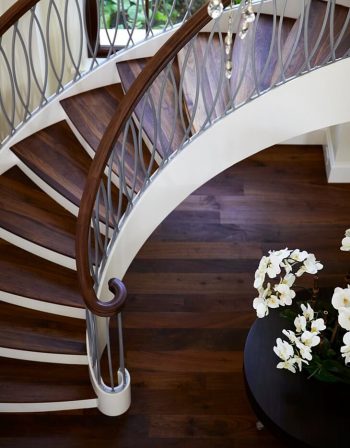 Sanctuary as a noun is defined in the Merriam Webster dictionary as "a place of refuge and protection." The pandemic taught us many things, perhaps most poignantly that we are each in more need of physical and emotional senses of retreat and refuge to rejuvenate. Senses of place, a focus on wellness and harnessing the power of interior design to achieve interiors and exteriors that offer sanctuary is precisely what Lisa Kahn has done with her purpose-driven design firm Finding Sanctuary by Lisa Kahn Designs. As an award-winning interior designer with over 30 years of experience, Lisa believes that the power of design extends beyond providing beautiful aesthetics – it offers an avenue to create spaces that inspire joy and allow one to live in a more centered, intentional manner. For Lisa and her team, this is sanctuary, this is wellness, this is the future of design.
Naturally Inspired Color
When creating spaces of sanctuary, one should bring bold colors from the natural world into the space. One strategy is to use a saturated color of grass cloth on the walls or ceiling to match the sky, water, or foliage outside the window. These beautiful hues of blue, green, and aquamarine have a way of blurring the boundaries between the indoors and the outdoors to create a peaceful, calming atmosphere in the space. Add plump throw pillows in bold colors to more neutral pieces of furniture like an all-white bed or a creamy-colored sofa and complete the look with colored glass or ceramic lamps. This also makes it easy to change later if you get tired of the colors. Bring in pieces of artwork that punctuate the space with different textures and colors. Doing so creates a sophisticated gallery effect and brings life and vibrancy to any room, particularly one that is mostly made up of neutral colors.
A Curated Micro Library
The impact of a well-appointed coffee table is one that should not be overlooked as it is often at the center of a space that physically connects people together as they perch in adjacent seating. It is often the literal center of attention! Objects on the table may end up serving as a conversation starter, a mood enhancer, a platform to showcase personal interests and collections, or a display area for the things to use to connect to those gathered around the table.There's a beauty to the visual impact of a pile of oversized, hard-cover books, especially ones that showcase our passions – everything from travel to art to alchemy. Books reveal our interests and inspirations and invite others to share with us what they love. Coffee table books are aptly named since we often display them on our tables. When stacked artfully and placed within reach, books can connect people with vibrant conversation and storytelling.
The Perfect Floor Stain
Just as choosing the perfect paint color can be agonizing, choosing the appropriate floor stain is an important choice that can be just as difficult. Dark colors can give a cozier feeling to a room. For spaces that want to be light and bright, lighter oak flooring can give a luminous, glowing quality.
To view Finding Sanctuary's gallery of design work, please visit: https://www.lisakahndesigns.com/projects

About Finding Sanctuary by Lisa Kahn Designs
Finding Sanctuary by Lisa Kahn is an award-winning interior design firm founded by chief designer and industry leader Lisa Kahn. Finding Sanctuary believes there is a vital and profound connection between the human spirit and the built environment and aims to create residential and commercial spaces that exude a strong sense of purpose—places that comfort the body, engage the mind, and nurture the spirit.