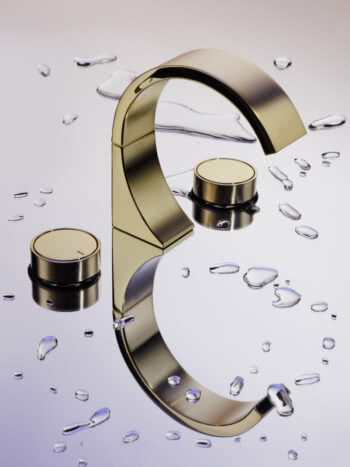 Timeless Elegance is Captured by Dornbracht CYO Bathroom Faucet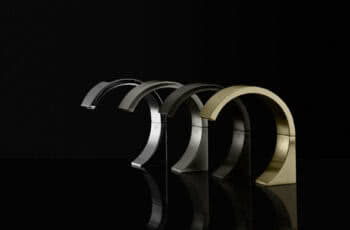 Authentic, genuine, tangible –The new CYO bathroom fitting series combines the design history of Dornbracht with today's zeitgeist. The sculptural C-shaped spout, designed by Sieger Design, has been reinterpreted in response to today's need for authenticity and timeless elegance. Dornbracht manufactures its products in Germany using the highest quality standards with respect to materials and workmanship.
Inspired by a design from the company's 1969 design archive, CYO represents the spirit of this era. Featuring a design that seems familiar and at the same time novel and forward-looking, CYO combines the cultural and creative foundation of the Dornbracht brand with the new brand promise: "Leading Designs for Architecture."
The central design element of CYO is the newly interpreted, archetypal C spout. The spout defines the extravagant contour and the sculptural quality of CYO. The basic shape of the circle is continued consistently throughout the series: from the handle elements to the water jet, which follows the shape of the spout. The product range, which consists of faucets for the sink, bathtub, and shower is complemented by matching accessories, resulting in a harmonious overall picture across all areas of application in the bathroom.
CYO meets the desire for more individuality.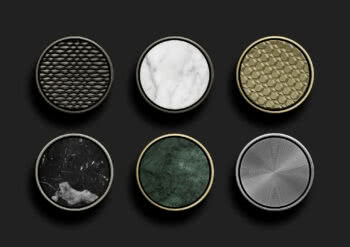 One highlight of the series is the unique handle which emphasizes new functional aspects because it is operated using a rotatable outer ring. A finely tuned raster gives users a conscious, tactile response each time they turn the handle. A wide and inspiring selection of handle inserts in various finishes, designs, and materials, such as structures or natural stone, provides a great deal of design options and personalization. The handle inserts can be individually combined and easily replaced. Further, Dornbracht's x-tra Service division which provides completely bespoke solutions, can offer additional possibilities for CYO customization.
Finishes selected especially for CYO include the bi-structural finishes that combine glossy and matte surfaces. They emphasize the lines and –as a particularly subtle form of contrast –lend the design additional sophistication. Six exclusive finishes also provide further possibilities for individualization. The extraordinary depth of color and high brilliance of the finishes are the results of a precise and elaborate finishing process.
Dornbracht design DNA
Balanced proportions and uncompromising precision make up the progressive and unmistakable character that gives CYO a strong personality. The design thus complies with the defined Dornbracht design principles which are the basis of every design and constitute the lasting quality of the products.
"No future without origin" is how Stefan Gesing, CEO of Dornbracht AG & Co. KG, sums it up. "CYO stands for both a look back into the past and into the future and thus it fulfills our defined claim 'Leading Designs for Architecture'."
About Dornbracht
Dornbracht, with headquarters in Iserlohn, Germany, is a leading specialist for superior designer fittings and accessories for bathrooms, spas, and kitchens. The company was founded in 1950 and today is internationally renowned among architects, designers, and luxury consumers for its product portfolio in more than 125 markets. As a premium brand, Dornbracht prides itself on its innovative technology and "Made in Germany" manufacturing standards which are made possible by state-of-the-art production technologies and highly qualified employees.The brand is driven by its clearly defined Design Principles which ensure every product will remain timeless and relevant for generations to come, characteristics for which Dornbracht has achieved worldwide recognition. https://www.dornbracht.com/us