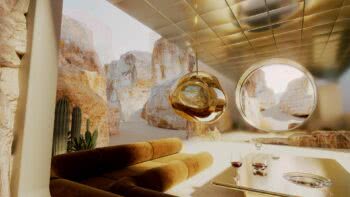 Tom Dixon Studio Lighting Designs Sets the Positive Mood
Light is the mysterious force that enables life on earth to exist and that allows us to see our world. As the seasons continue to change, Autumn brings longer hours of darkness. With that, our desire for more enriching and radiant lighting within the spaces that we inhabit takes hold.
Over the last few years, Tom Dixon Studio has relished experimenting with illumination in diverse materials such as brass, copper, marble, polycarbonate, steel and glass, and this Autumn the brand unveils their new designs as well as best-selling objects – updated and fitted with new custom LED modules. Conscious of the urgency of an energy efficient future, Tom Dixon has introduced the latest in high performance LED technology into their existing luminaires and created a series of new luminous innovations celebrating the power of LED.
Tom says: "GOOD lighting can have a powerful impact on our mood and well-being. So, we have been investigating the ability of lighting to induce, according to its intensity, saturation and modulation, specific emotional states, as well as activate a whole host of cognitive skills such as dynamism, relaxation, privacy, visual clarity, excitation, productivity or even efficiency. Poor levels of light however, particularly in Winter, can lead to sleepiness, restlessness, anxiety and even depression. This makes us even more passionate about the power of lighting as we explore ways in which it elevates mood and allows us to create more sensory-driven and astonishing interior spaces."
The brand's new futuristic fantasy imagery is the product of a collaboration with young digital artist Joe Morrell, describing hyper-real dreamlike spaces bathed in comforting light demonstrating the positive impact of lighting in an interior setting.
The latest LED innovations in lighting include:
MELT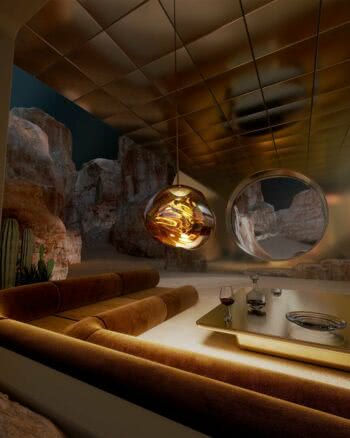 The mesmerizing hot-blown glass effect of MELT evokes images of fire, molten embers and lava. Emitting an alluring yet mildly hallucinogenic light, MELT resembles a dancing fire or flickering flame, which stimulates a curious and tantalizing attraction.
SPRING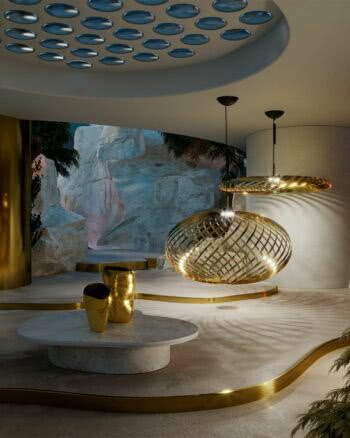 SPRING is made of pliant ribbons of stainless steel which have been arranged like a whisk around a custom-made LED module. The semi-transparent shape relies on darkness as much as illumination to cast patterns onto its surroundings to create dramatic and atmospheric shadows and light play. Its flexible form can be shapeshifted to a variation of silhouettes.
MIRROR BALL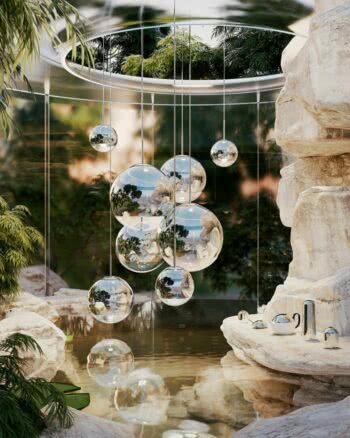 One of the most identifiable Tom Dixon products, inspired by the famous space helmet, and by disco balls. MIRROR BALL is lightweight yet robust and reflects its environment, projecting downward ambient light. Available in the original chrome finish, and in gold, with two different designs; pendant and tripod stand, this versatile collection offers a lamp for every function.
GLOBE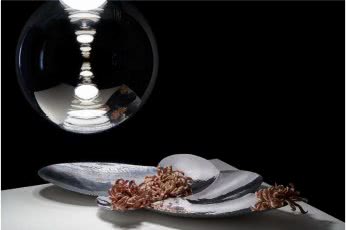 GLOBE is reminiscent of ancient witch balls, which are hollowed spheres of colored glass that were used to ward off evil spirits. GLOBE is a spherical orb of blow-molded polycarbonate, which is highly mirrored and perfectly reflective during the day. When switched on, it reveals a multiplicity of internal reflections.
OPAL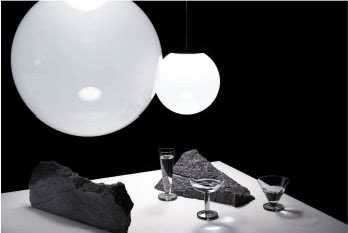 Resembling the moon, OPAL is an ethereal sphere that emits a soft and diffused light. The lightweight opalescent polycarbonate enables the pendants to gently sway, casting a lunar glow over an interior. Like the moon, it illuminates the darkness, navigating and influencing one's movement and direction.
About Tom Dixon Studio
Established in 2002, Tom Dixon is a British luxury design brand which is represented in 90 countries. Specializing in furniture, lighting and accessories, Tom Dixon has hubs in London, Milan, Hong Kong, London, New York, Tokyo, Hangzhou, Beijing and Shanghai. With an aesthetic that is intrinsically inspired by the brand's British roots, the products are internationally recognized and appreciated for their pioneering use of materials and techniques.
With an aesthetic that is intrinsically inspired by the brand's British roots, the products are internationally recognized and appreciated for their pioneering use of materials and techniques.