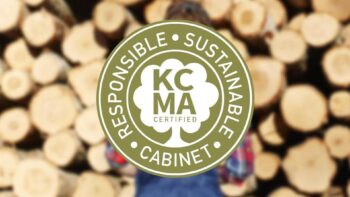 Trending: Soaring Demand for Eco-Friendly Cabinet Options
Three out of five consumers in a recent survey said socially responsible or sustainable products made up at least half of their last purchases. Called "Balancing sustainability and profitability: How businesses can protect people, planet, and the bottom line," the study was conducted by the IBM Institute for Business Value (IBV).
"That was an extraordinary study that coincided with our own studies with what consumers want in cabinetry," says Betsy Natz, CEO, Kitchen Cabinet Manufacturers Association (KCMA). "In the IBM study, 51% of respondents said environmental sustainability is more important to them today than it was 12 months ago, and half of consumers were willing to pay a premium for a sustainable brand or sustainable products. It matched almost exactly with why we developed our Environmental Stewardship Program (ESP) for KCMA members seeking to give interior designers and architects reassurance that corporate responsibility for our planet is reflected in the products they manufacture."
The KCMA ESP program was developed to help members gain ESP certification through a rigorous process that follows the ESP Guidance Document and ESP 01-20 standard. Using points like other programs that members accumulate through their activities (i.e., LEED®), the KCMA ESP program puts members on the front lines of sustainability, requiring 70 points for certification and compliance with two mandatory requirements.
"Talk is always cheap," said Natz. "But our members know the environment comes first when they are making their products, so they helped us put that talk into measurable actions. The result is assurance for architects that the cabinets they specify that are manufactured by KCMA members who have completed certification are doing the right thing for the planet."
Some of those requirements include:
Air Quality & Pollution Prevention, where the manufacturer has a documented energy conservation program, has met or exceeded source reduction and waste management goals in section 8 of the Toxic Release Inventory Form R or has listed source reduction activities in section 8.10.1 of Form R and guaranteed that 100% of laminated products produced prior to 3/22/2024 utilize an exempt resin system defined in TSCA Title VI;
Resource Sustainability, with the certified member maintaining that 80% of particleboard and medium density fiberboard and plywood used in cabinets are either CPA ECC or Benchmark CWSS certified, Hardwood, softwood and plywood purchased are Chain-of-Custody certified through a recognized sustainable forestry program and an annual, written training plan to educate their hardwood suppliers of their preference for purchasing certified lumber;
Waste Minimization, with certification requiring the manufacturer to have a comprehensive recycling program for processing waste, for tracking and reducing process waste products with documented goals and reports and a program for reclaiming any cabinets and either sending them for recycle, reuse, or re-purpose.
"There's much, much more," Natz explains, "but then, there's much to do to be the corporate environmental citizens we should and must be. This program is going to provide exactly what specifiers are looking for in cabinetry. Besides, we also know that Global CEOs named sustainability as the top challenge their organizations are expected to face over the next two to three years—rising from sixth place in 2021. The KCMA ESP program fits that challenge to a tee."
The new ESP Program from KCMA is an important step in promoting the role KCMA members play in creating a more sustainable world and part of an ever-increasing bundle of programs based on a healthier ecosystem. KCMA ESP is also part of a larger effort to create awareness of the significant positive environmental impact building material choices have on the environment and advancing a lower carbon future.
About KCMA
The Kitchen Cabinet Manufacturers Association (KCMA) is a non-profit organization founded in 1955 to represent companies who manufacture cabinets, bath cabinets, or other residential cabinets, and key kitchen and bath industry suppliers. With a membership now more than 300 strong throughout North America, KCMA works to advance the cabinet industry through advocacy, setting cabinet quality standards, sponsoring kitchen and bath cabinet-related research, and providing the cabinet industry with management tools and educational programs.
About ESP
The Environmental Stewardship Program (ESP) was developed to encourage practices that benefit both the environment and the communities served by cabinet manufacturers. For more information, go to KCMA.org.'s ESP certification page.