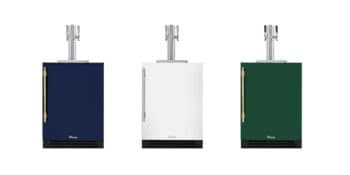 True Residential Undercounter Beverage Dispenser Perfect Fit for Outdoor Oasis
True's Undercounter Beverage Dispenser is ideal for anyone who loves their beer poured just right. Handcrafted to specifically dispense the perfect draft pour, the dispenser features advanced airflow technology to ensure a consistently frosty, and refreshing flow. The unobtrusive 15" or 24" stainless-steel dispenser comes with either a single or dual tap and works both indoors and out—this is one unit that won't go out of favor! Because the unit is outfitted with the proprietary TrueFlex® shelving system, the versatile cooler is completely convertible into a wine cabinet replete with the brand's patented TruLumina LED Lighting to illuminate your favorite bottles in a choice of 14 ambient color options. Best of all, significant others will love it too: it's incredibly chic and can be customized in any unique combination from the Build Your True program of custom finishes and hardware. Visualize the results here.
About True Residential
A division of the third generation, family owned-and-operated True ® Manufacturing Company in St. Louis, True Residential was established to deliver the finest in high-end home refrigeration backed by a long legacy of commercial performance. Handcrafted in the USA with the same meticulous attention to quality and detail industry professionals demand, the residential series includes full-size refrigerators and refrigerator columns; and undercounter wine cabinets, refrigerators, beverage centers, refrigerator drawers, beer dispensers, and ice machines. For more information about True® Residential visit true-residential.com.