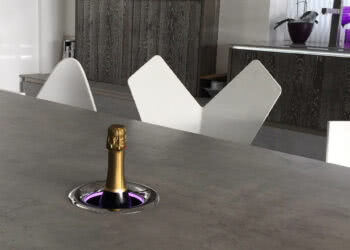 U-Line Introduces U-Chill ™, The Perfect Serving Companion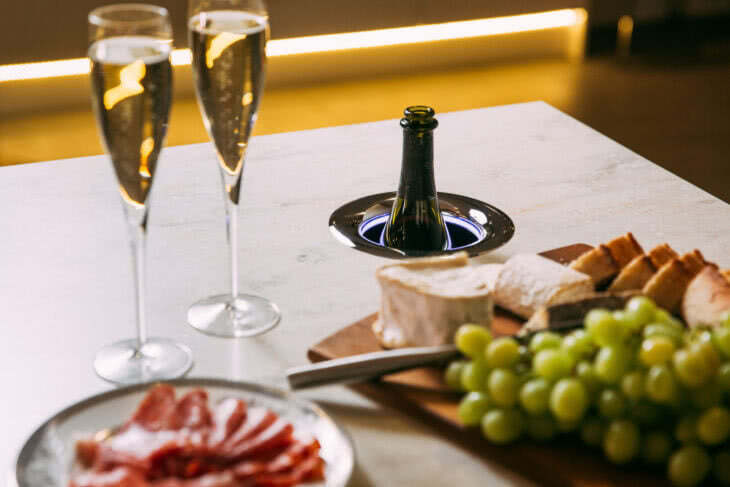 (Milwaukee, WI) –U-Line introduces U-Chill™, an in-counter cooling cylinder that maintains the temperature of chilled beverages while you enjoy them. With no ice and no drips, U-Chill™ is perfect for wine, champagne, craft beer, carafes, bottled water, juice, soda, and spirits.
"Known for our industry-leading innovations, U-Line continually strives to enhance the lifestyle of our customers," says David Carr, Director of Product & Marketing for U-Line Corporation. "U-Chill™ is a natural companion for our under counter refrigeration products, especially our Wine Captain® Models and Beverage Centers."
U-Chill™ maintains the temperature of your chilled bottle within 2° – 4°F without the need for ice. Using patented technology, a jacket of cool air surrounds the bottle, keeping it cool and dry. Simply touch the hand polished stainless steel crown and choose from 27 different color options or choose the color flow setting which cycles through the spectrum of colors. It can be easily installed into nearly any surface in minutes, is virtually silent, & maintenance free."It's efficient, stylish, and can be built into a variety of settings both residentially and commercially," says David Carr. U-Chill™ is available at u-line.com/u-chill and select dealers nationwide.
ABOUT U-LINE
For over five decades, U-Line continues to be a leader in innovation, quality, and value in the premium modular refrigeration, ice making, and wine preservation market. U-Line is located in Milwaukee, Wisconsin, USA. Since 2014, U-Line has been part of the Middleby family of brands. Visit u-line.com to learn more.