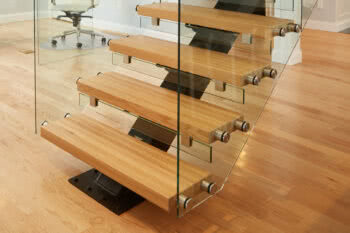 Viewrail FLIGHT Floating Stairs Create Airy Open Space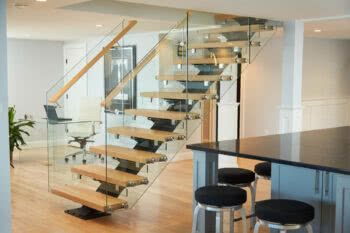 Goshen IN – Viewrail FLIGHT floating stairs are a customized modern floating stair system that creates a light-filled, airy open space to replace a typical drywall box filled with stairs. With FLIGHT, the treads appear to float in mid-air and the wide-open space on the sides and underneath create new wide, panoramic views.
A Viewrail FLIGHT system includes a steel stringer, luxurious thick wood treads, low-profile brackets and modern railing options in your choice of glass, stainless steel rod, or cable railing. All designed and engineered for each specific installation.
Most floating stairways require an architect to plan and engineer, a steel fabrication shop to create the support, a wood shop to make the treads, an installation team for the stringer and treads and possibly another installer for the railing. A FLIGHT system is designed to the preferences of each building owner by Viewrail staff, who have designed hundreds of stair systems. Everything required for each individual order is built in a Viewrail facility in Indiana, and ships directly to the job site.
These custom-designed and pre-manufactured stairways come complete and ready to install. Unlike most other floating stairs, there is no on-site cutting, welding, painting or finishing. Installation is typically completed in about a day by a crew of three carpenters.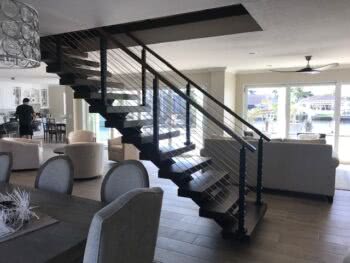 The entire FLIGHT system is modular and can be customized to your liking. Stairs can be built in any configuration, including straight runs, 90-degree turns, and switchbacks. Wood treads are available in thicknesses up to 4" in over 15 species with many stain options. Cable, rod, and glass railing systems can be incorporated with a variety of hardware and mounting styles.
A stringer typically weighs only about 125 to 150 pounds, so it's easily manageable on the job site. The brackets that attach the stringer to the floor and wall are extremely easy to install, using locating pins to ensure the correct position. The brackets that hold the tread to the stringer are mechanically fastened at the job site. The bottom of the tread is CNC machined to accept the bracket, and the locations for the wood screws feature computer-located, pre-drilled pilot holes
Complete 3D CAD renderings, full shop and stamped engineering drawings, information on the necessary framing requirements and applicable code information is available for every FLIGHT system through the Viewrail Customer Service Team.
About Viewrail
Viewrail, based in Goshen, IN, is a manufacturer of premium rod, glass, and cable railing in addition to the FLIGHT floating stair system. A state-of-the-art wood shop, a full steel and aluminum shop plus a glass shop permit Viewrail to fabricate all of the components in-house.