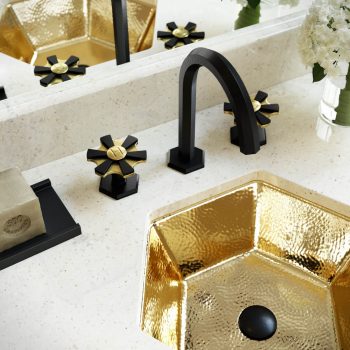 Watermark Designs and Barry Goralnick Team Up to Take Industrial Bathroom Design to a New Level
The New James Collection Is a Sophisticated Exploration of the Industrial Trend
Brooklyn, NY – Watermark Designs, the Brooklyn-based manufacturers and designers of faucets, fixtures and accessories for residential and commercial properties has teamed up with renowned architect, interior designer and product designer Barry Goralnick on a bathroom collection that elevates the industrial trend by adding a level of sophistication and luxury.
The new collection, according to Barry Goralnick, is the "definition of my signature statement, Blended Modern ™." With its nod to traditional and industrial design, the collection has one foot in the past and one in the future. "People always gravitate to things that they can relate to from their personal histories. The industrial aesthetic has been popular ever since the modern architecture of the Bauhaus Movement brought it from the factory to the home," says Goralnick. "Each generation has utilized it in different ways, as a small gesture or a literal one. This softened design with elegant finishes takes it to a new level."
An accomplished architect, interior designer, and product designer, Goralnick marks his first foray into plumbing products, choosing to work with Watermark Designs for several reasons: the brand's designs are forward-looking with their use of textures, finishes and choices beyond what some larger brands offer. It was important to Goralnick that Watermark handcrafts their products in Brooklyn, as the collaborators could meet more easily to work through any design or technical challenges.
"We've had remarkable success collaborating with architects and designers; their creativity helps inspire our team and that was exactly how our collaboration with Barry Goralnick worked. He brought his energy and vision and matched it with our engineering capabilities. We are very proud of this collection," says Avi Abel of Watermark Designs.
The James Collection is complete with both knobs and lever faucets, towel bars, toilet paper holders, shower faucetry and hardware, and more. Manufactured from solid brass, the knobs are gear-like, which gives them a deeper, more intricate visual and tactile appeal. When seen in a two-toned finish, the handle becomes even more luxurious and multi-dimensional.
Pricing for the James Collection starts at $1427. You can see more of the Collection here:
https://watermark-designs.com/collections/watermark-collection/james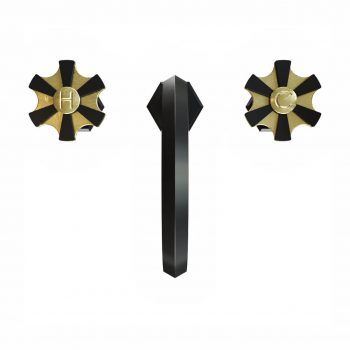 About Watermark Designs
For more than three decades, Watermark Designs has been a leading manufacturer of decorative plumbing fixtures, bathroom accessories, lighting and elegant hardware for homeowners who expect the best and want the unexpected. Based in the independent design hub of Brooklyn and made in the USA, Watermark's designs reflect the creative melting-pot from which they hail. As a true manufacturer, Watermark Designs achieves distinctive product quality by using a combination of hands-on design and development combined with state-of-the-industry equipment.
The designers at Watermark have always embraced innovation and creativity in design as well as technology. The company aggressively invests in and develops new products with water-saving features while implementing environmentally safe manufacturing practices. Products are CAL-Green compliant.
The company also takes great pains to ensure that their factory's footprint is small, and environmentally sound. Watermark's Brooklyn factory is closed-loop, reusing products and elements wherever possible.
Each product that is designed and manufactured is hand-polished and hand-tested before leaving the factory. This level of control is what differentiates Watermark Designs' products from big box brands. To learn more about Watermark Designs, visit their website: www.watermark-designs.com
About Goralnick Architecture Design Studio:
Barry Goralnick is a world-renowned architect and designer whose Blended Modern ™ lifestyle captures the ultimate in successful living. Based in New York, he has had his own firm for over twenty years. After graduating the Harvard Graduate School of Design, he worked with Robert A. M. Stern. From his NoMad design studio in Manhattan, he designs for a variety of premiere home and hospitality companies, including Villeroy & Boch, Currey & Co., Vanguard Furniture, Visual Comfort and Watermark Designs, among others. Goralnick has been awarded the ARTS Award for Product Design, the "Innovation In Design Award" from Cottages & Gardens (5-time nominee) and is a "Best of Year" Winner for Product Design from Interior Design. His work has been showcased in Architectural Digest, Elle Décor, The New York Times, as well as international publications, among them Residence (Shanghai), Vogue (Italy), and Schöner Wohnen (Germany). For more information, visit www.barrygoralnick.com