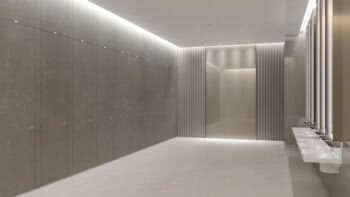 Welcome to the Modular Bathroom
CARVART Launches New modularBATH Concept
CARVART, a leader in architectural solutions, is launching its new modularBATH concept, an all-in-one bathroom system that brings CARVART's collection of commercial bath products including cubicles, integrated sinks, wall cladding, and lockers, together with its new integrated plumbing system, creating one comprehensive, pre-fabricated solution.
There are many benefits to this technologically-advanced and truly modular system according to the company. All finish products, framing and plumbing, leading up to the existing plumbing lines, is pre-fabricated and cut to size prior to arriving on-site, facilitating an easy installation process at a lower cost. Produced by a single-source manufacturer, the material palette and engineered systems work together seamlessly to not only create an elegant space but to expedite coordination and timing and promote a safer work environment by limiting the number of people needed on site.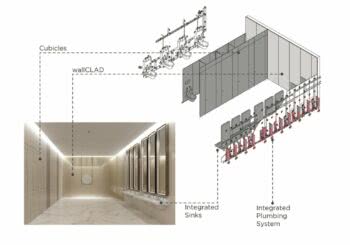 CARVART's design team will collaborate with designers, contractors, developers and alike, to craft a cohesive material arrangement of glass, cHPL, and stone (porcelain) that will be carried throughout the various modularBATH products and coordinated in 3D BIM models, simplifying design development and installation coordination.
CARVART now features a new antibacterial coating that is integral to the cHPL finishes and does not distort the colors of the product. Lamishield with BioCoteⓇ is CARVART's newest, FDA approved, antibacterial technology in commercial bath products, specifically made to protect its laminated cHPL variations, reducing the level of bacteria up to 99% on these surfaces. The coating adds extra protection that makes the laminate more resistant to bacteria and makes it easier to clean. This feature, along with touchless functionality cater to the growing need for hygienic, protective and easy to clean products, especially in high-traffic areas like commercial bathrooms.
"Everyday surfaces have never received more attention than now, as COVID-19 has sparked significant discussion around potential solutions that can help protect individuals, both immediately and for years to come," says CARVART CEO Edward Geyman. "It is critical that employees and the general public are provided with safe and healthy solutions, so it's an honor to introduce our new all-in-one modularBATH line that can help protect people through its antibacterial and touchless properties while still offering a standout design."
The family includes cubicles with touchless sensors are to reduce the number of touch-points users interact with, self-sufficient systems that includes a mirror, glass or solid surface sink basin, faucets, and a high-tech multiconsole, cubicles, integrated sinks, wall cladding, and lockers.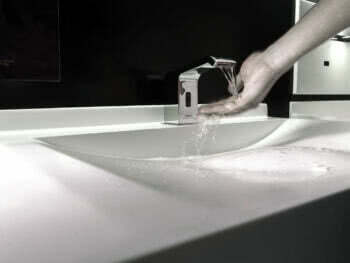 All CARVART's commercial bath products are available in a range of material palettes such as glass, stone (porcelain), and cHPL wood grain; and all offer customizable design choices that empowers designers to create their unique visions for a space. CARVART's component and configuration designs are sensitive to different hygiene and privacy needs, and consider spatial and code-based ADA requirements to account for each individual user's needs. In response to the current COVID-19 pandemic, CARVART will be including this antibacterial coating at no additional cost for projects that are specified or installed in 2020.
CARVART is a creative architectural product, product engineering and fabrication partner, specializing in a common thread of interior to exterior architectural glass, metal, stone and wood products with hardware systems. CARVART's strength is solving design challenges through refined aesthetics backed by functionality, ease of installation and purpose. With over 20 years of experience, the brand prides itself in creating innovative solutions, partnering with some of the best A+D firms, glaziers, contractors, and various other collaborators around the world. A national provider with installation partnerships, contract furniture dealers and rep networks, CARVART has the capability to conduct business in all 50 states and globally. By combing precise engineering, outstanding design, and exceptional service over a variety of systems and applications, CARVART is a leader in the architectural design industry