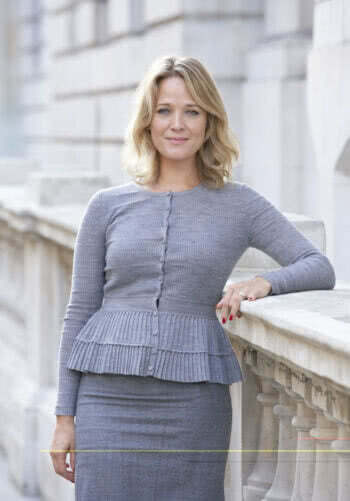 Quiet Mark: Increases Awareness of the Impact Noise has on our Health
Poppy Szkiler is the founder and CEO of Quiet Mark, a third-generation family business. The global certification program campaign (founded in 2011) is associated to the UK Noise Abatement Society (NAS) charitable foundation, which was founded by Poppy's grandfather, John Connell OBE in 1959 and led today by her mother Gloria Connell OBE. Today, her company is conducting expert acoustic testing and verification of products, and over the past 10 years has driven change in manufacturing worldwide to prioritize noise reduction within the design of everyday machines, appliances, technologies and house build materials, creating the first one-stop platform for third party approved noise reduction solutions for every living space to health and well-being.
KB-Resource caught up with Poppy and she agreed to be interviewed. Here is what she had to say to us.
KB-Resource (KBR): Noise is an interesting thing to measure. Like color, often sound is in the ear of the listener. What drove you to measuring acoustics of appliances and such?
Poppy Szkiler (PS): Because sound is invisible it is often overlooked. Yet, the fundamental impact it has on all the physical rhythms of our bodies, our hormones, heart-rate and brain waves is so profound and inherent to our well-being. According to our latest public surveys commissioned by Quiet Mark, there is still a huge knowledge gap about this in North America, which often prevents noise reduction being made a priority in the design focus of new product development, yet unwanted noise is a serious pollutant.
Because sound measurement is also scientifically very complex and equally not straightforward to understand, especially in our fast paced lives, consumers don't have time to begin to evaluate and compare the sound measurement of products. Yet, an ear splitting juicer every morning, constant pings and bleeps from appliances or roaring leaf blower robs peace, concentration, causing stress build up, irritation and more long term illness when there is a constant build-up of excessive noise.
We felt it was very important for consumers and trade buyers to have an expert definitive guide to the quietest products on the market year-on-year across all product categories and set about creating Quiet Mark as the trusted third party certification program to serve public health with leading acoustic evaluation. We extended the work of the long established NAS charitable foundation, to meet people where they were at with help they really needed to help make their lives more peaceful: whilst shopping for products or specifying for building projects, or in product reviews reading a magazine, for example.
Quiet Mark does all the hard science testing and technical triangulations. It was clear a quick easy global approval system profiling the few products that were quietest category by category was badly needed. To this day, thankfully, has been met with great cheer.
KBR: Can you tell us a little bit about your measurement technologies without revealing anything proprietary? We remember one toilet manufacturer in the US had a complete facility built to measure decibel levels of fixtures, to the point where their lab became accredited by IAMPO and other organizations. Are you finding out that's happening to Quiet Mark? Your room images of your testing facility we've seen looks like the room we just mentioned.
PS: The lab used for Quiet Mark's in-house testing was designed to replicate a real-life kitchen with tiled walls and flooring and solid ceiling. Typical kitchen cabinets and worktops are incorporated in this room in order for us to place domestic appliances for testing at the appropriate heights. This way when we are testing a stand mixer or juicer we can be sure it is how a consumer will typically hear it working at home.
We use a dB sound level meter to check the decibel levels of a product. If there is more than one setting or power level, we test on each one. Those products that are amongst the quietest are earmarked for Quiet Mark certification and put through for further analysis. This further analysis delves into the different sonic elements, artifacts, and qualities that each unit presents during testing. These serve as supporting evidence for analysis and are especially helpful in identifying products that have landed at the top rank, through their dB measurement results, but portray particularly poor acoustic qualities that could potentially be deemed as "unpleasant" or "intrusive."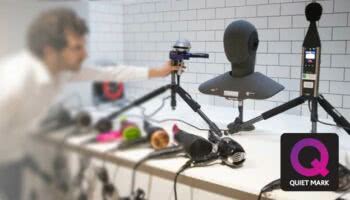 KBR: You have many recognized brands associated with your "quiet" revolution, but there's nothing quiet about what you're doing, is there? As the saying goes, if you have something to sell, you shouldn't whisper in the well but climb the tree and holler. What are you doing to promote Quiet Mark and it's mission?
PS: Quiet Mark operates an energetic high-profile global Press and PR campaign, across a wide variety of media aiming to reach as many consumers as possible with Quiet Mark certified solutions. One example was a recent Quiet Mark feature in a 10 minute segment on BBC TV Breakfast, and that report was part of a BBC Worldwide news online feature reaching multi-millions of viewers across all corners of the globe.
During the pandemic, NBC News, Forbes, The New York Times, MSN, House Beautiful and many other US publications have kindly invited us to provide thought leadership in features looking at the health risks of noise pollution, the well-being benefits of improved acoustics, and the work that Quiet Mark does to provide solutions to unwanted noise.
Our partnership with The Good Housekeeping Institute, for whom we do acoustic testing of the many appliances that they review, goes back to 2018, bringing Quiet Mark to their 17 Million US readers.
The Quiet Mark Podcast has recently been included in Best Startup's 20 Best UK Health Podcasts of 2021, and is one of the top 10% most popular shows out of 2.4M podcasts globally, ranked by Listen Score. Now in it's 27th episode, the show explores the human relationship with sound and helps to raise the profile of our Acoustics Academy; new online platform to further equip and empower architects, builders and designers with a guide to expertly verified leading acoustic solutions for every building application area. Guests include Martin Ware – Founder Human League & Heaven17, Field Recording legend, Bernie Krause and Matthew Bennet – Former Director of Sound & Sensory at Microsoft, in addition to leading acousticians from The WELL Building Institute, ARUP and BDP Architects.
KBR: Are you able to demonstrate sound tests virtually? I mean, with sound, like color, being so personal, how difficult is it to get an overall accurate reading that everyone agrees on?
PS: As sound is a very subjective matter, jury testing is a method we have used to work out what people consider to be pleasant or annoying, what noise is expected from an appliance, therefore tolerated, and what is considered overly intrusive. As different people have different reactions to the noise made by a machine, sound jury testing can take into account things like Loudness, Frequency, Power, Pleasantness and Sound Quality, which give us a good understanding of what sounds favorable and what doesn't, rather than just a decibel number.
It's part of the reason why we don't publish decibels on our website. Giving out the definitive dB level of a product may be confusing. In addition two similar functioning products may emit the same decibel level, however one may sound pleasant and the other sound unpleasant and irritating. This will not be reflected in the decibel measurement.
Between only 10% to 20% of the quietest best performing products are awarded Quiet Mark certification. Each product category is re-evaluated annually to reflect new models coming on to the market.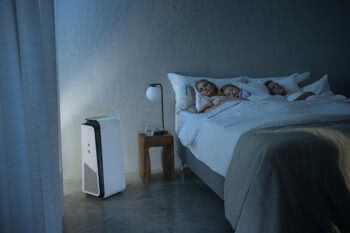 KBR: We've seen your logo as a mark used on various products and their marketing campaigns – like the Intel Inside® mark was and is used. How do manufacturers participate in this type of opportunity?
PS: When a product achieves Quiet Mark Certification, the manufacturer receives a license that enables them to use the Quiet Mark logo on their packaging, in their TV and print advertising, marketing and social media, alongside the product in their eCommerce, and a variety of other ways to let consumers know that it is amongst the quietest available on the market.
KBR: How is the Quiet Mark being accepted in the US?
PS: Quiet Mark is poised to make great strides in the US. We are excited to have a great track record thus far with multiple partners including our partnership with Good Housekeeping Magazine and Institute and appointment to the WELL Advisory Board. We have core brands certified that set the standard for quality in the US, including Pella Windows, Philips, Blueair, Dyson, Karcher and many others within the US that prioritize sound quality and quiet. We have been getting a wide diversity of press coverage as our mission grows to encompass more brands and retail partnerships within the US in 2021/22.
Following the success of our alliance of retailer group partnerships in the UK over the past 8 years, helping millions of shoppers easily find Quiet Mark certified products at point of sale online or in store, we are keen to establish the same model with first US retailer partnerships into 2022 post-pandemic. Significant sales drive is achieved on Quiet Mark certified products where consumers are actively seeking help to create quieter homes choosing the quietest options when they are highlighted.
There is a real lack of education about the impact of noise on health. This could potentially stem from the fact that there was a federal law on the books guarding people against noise pollution, which was eliminated by Congress under the Reagan administration (Noise Control Act of 1972).  We plan to bring an increased awareness about the need for more quiet post pandemic. We will be testing and certifying more brands products that are Quiet Mark approved across more product categories for consumers and also build sector specifiers, sourcing the best easy to find noise reduction solutions for every American home and every building project.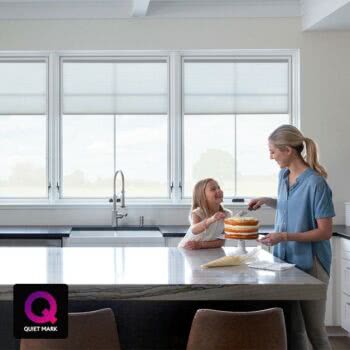 KBR: Are retailers responding to your mission? For example, have you had situations where a retailer expressed an appreciation for products they carry have your Quiet Mark certification and will insist on them for their showrooms an stores?
PS: In the UK, Quiet Mark has Retail Partnerships with 7 of the biggest names on the high street and online, including John Lewis & Partners, Currys PC World and ASDA, who are part of the Walmart group. Each retail partner makes the Quiet Mark clearly visible on their website, with several having dedicated Quiet Mark pages and banners.
John Lewis's technology director, Laurence Mitchell, says there are more than 10,000 searches a month for appliances that include the term "quiet" on the retailer's website. Part of our strategy for 2021/22 is to form similar partnerships with US retailers to make it easier for US consumers to source the quietest products.
KBR: Speaking of certification, what are the steps required for a product to be Quiet Mark certified? Is "certified" even the right word to be using? Help our readers understand the usage.
PS: The first step is to contact Quiet Mark via [email protected] with the product(s) you are interested in having certified. With 10 years experience covering around 70 different product categories, chances are we've tested your type of appliance before. So, we will have comparative data to analyze the results against. For a new category, we will design a suitable test program and aim to compare your products against those of main competitors, the purpose of which is to give us a good understanding of the market, in terms of noise levels.
If the product is for the building trade, such as glazing, flooring, noise insulation panels, etc., then the process is different and we request manufacturers to send in results from standardized testing done at independent, accredited laboratories.
KBR: We're certain you've heard of INCE-USA, the Institute of Noise Control Engineering of the USA. But, how much interaction do you have with other organizations? Does your Acoustic Academy have anything to do with such collaborations?
PS: IWBI recently launched the WELL Homes Advisory to Extend into Single-Family Home Market. Our CMO, Simon Gosling, has been appointed to the WELL Homes Advisory Board.
The Advisory will help identify key challenges and opportunities for expanding the science-backed programs rooted in the WELL Building Standard (WELL) to include the single-family footprint as well as enhance the existing pathway for multi-family residences. With Sound being one of the 10 key concepts of the WELL Standard, Quiet Mark's years of product testing, identifying the quietest products to improve the domestic soundscape is naturally aligned with the formation of this new standard.
Also, The Good Housekeeping Institute is a trusted source for well tested products and appliances. Our acoustic testing partnership with them, is helping to elevate consumers' appreciation on the importance of choosing a product based on the sound quality it makes.
KBR: How should designers and architects bring in Quiet Mark into their conversations? Can you give them some hints on bringing the mark into their specifications? For example, should specifications include language that doesn't just specify the product, but the certifications involved with the product as they do in many cases by other associations? Are you an association?
PS: That's an excellent question! We are currently recording a "Sustainable September" episode of The Quiet Mark Podcast, talking to 7 or 8 manufactures of Quiet Mark certified products, listed on our Acoustics Academy, about the sustainability of their manufacturing processes. Several have noted a massive upturn in specifiers wanting to check a product's sustainability credentials, before selecting it for a project. Their clients want to be able to assure their clientele that their new building or office space has been created with minimal impact on the environment.
A wave of silence spread across the planet during the first lockdowns of the pandemic. Man made noise dropped by up to 50% in most countries around the world. With this came a sudden appreciation that the planet, and our lives, had become too loud and that measures needed to be taken to prevent the volume from returning to pre-pandemic levels. Several of our leading Industry Acoustic Consultant guests on The Quiet Mark Podcast have spoken of acoustics now taking an equally important role in specification as visual design and sustainability. Specifiers, aware of the well-being benefits and the positive effects that improved acoustics is having on our mental health, are increasingly prioritizing acoustically verified products. Our Acoustics Academy provides a short cut to sourcing the best products for that purpose.
KBR: Commercial office space has taken a beating during COVID-19. With so much space being readily available now, do you think noise is still a concern? Has Quiet Mark extended into space measurements or are you just dealing with products?
PS: In our latest episode of The Quiet Mark Podcast, Ep. 27, we discuss noise pollution in construction with Peter Wilson, Technical Director at Echo Barrier, whose Quiet Mark certified acoustic barriers reduce occupational and environmental noise on construction sites, globally.
Our Host and CMO, Simon Gosling, asked Peter this same question, relating to so much commercial office space becoming increasingly disused.
Peter said that, post pandemic, he expects to see a combination of renovation and rebuild. The level of noise disturbance really depends on how many people are going to be affected by it. Offices are often not in areas where many people live, however, they may be in areas where people work — and that needs to be taken into consideration.
KBR: We noted that you tied in worker productivity to noise in your presentations. That's a very accepted and important topic that's discussed. Have you published papers on this topic that our readers might find useful in their work?
PS: Research from the British Journal of Psychology found that background noise kills productivity levels, with studies showing that workers can be up to 66% less productive when exposed to just one nearby conversation.
Whilst we haven't published any papers per-se, worker productivity in relation to noise is a topic frequently discussed with our expert guests on our podcast. Whether it's the impact that background noise has in the workplace, be that the office or our home, or the effect it might have on our sleep patterns, affecting our ability to concentrate, it's a subject that we discuss, seeking to evangelize the solutions that Quiet Mark provides, whether through Quiet Mark certified appliances or the materials that build our environments, such as the walls, floors, doors, windows, ceilings, furniture and vents listed in our Acoustics Academy.
Mindful that not everyone has an hour spare to listen to a podcast episode, we frequently repurpose those enlightening and informative conversations in the form of articles, which we share with trade publications and in our own free newsletter, Quiet Times – your sonic news bulletin.
KBR: Finally, how do people get in touch with you and your organization? What's the best way to communicate with you. We know you have a newsletter. Tell us how to subscribe and give us a way to reach you.
PS: Manufactures looking to enter their products for Quiet Mark certification assessment, can contact us via [email protected].
Our free monthly newsletter, Quiet Times – your sonic news bulletin, which you can subscribe to HERE. And we are on all the major social media platforms.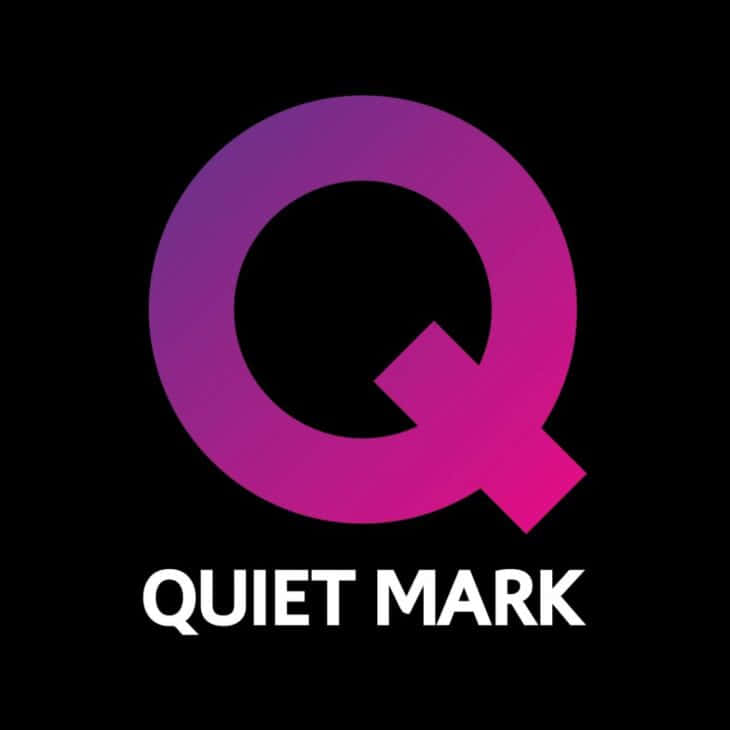 About Quiet Mark
Quiet Mark is the independent global certification program associated with the UK Noise Abatement Society charitable foundation (est.1959). Through scientific testing and assessment Quiet Mark identifies the quietest products in multiple categories spanning many sectors, including: home appliances and technology, building sector materials and commercial sector products.