The Journey: Beko's Expansion into U.S. Appliance Market Shifts Conversation to Health, Wellness and Sustainability
Zach Elkin, President of Beko US and Sazi Bugay, Director of Marketing and Product Management for Beko US, are spearheading the European company's expansion into the United States appliance market. Since 1955, Beko has been the fastest-growing appliance brand in Europe, with a global production network and appliances in over 440 million homes in more than 145 countries. In 2015, the company decided to bring its products to United States consumers, who have different expectations for appliances than their European counterparts. How does a renowned international brand establish itself in a completely new market? KB-Resource spoke to Elkin and Bugay to find out.
KB-RESOURCE (KBR): Can you explain more about your company? When and how did Beko's expansion into the U.S. market begin?
ZACH ELKIN (ZE): We have a selective distribution strategy for our brand here in the U.S. with major independents, which started back in 2016. Our focus is supporting independents, specialty retailers and builder distributors. We have progressed over the past three years and our progress continues to be historic. Our dealers are looking to Beko mutually beneficial relationships. At Beko, we understand that 78% of all built-in appliances are sold through independents, specialty retailers and builder distributors. Builder distributors are important as twenty percent of home appliances are sold to home builders in the U.S. This is extremely important to our US brand development.
Beko is one of the largest appliance brands in Europe, as we have steadily increased market share over the past several decades. As a matter of fact, 15 percent of the world's dishwashers are being built by our state-of-the-art factories. Our products are produced in numerous countries and our supply chain is second to none in the appliance industry.
SAZI BUGAY (SB): We decided to begin our journey into the U.S. market five years ago, which entailed a bit of a shift in strategy from how we market products internationally. To make inroads with U.S. consumers and gain wider brand recognition, Beko began a full-scale research effort to identify the "gaps" in consumer needs and preferences that exist between the U.S. and Europe. We conducted surveys and spoke to many architects, dealers, designers, and builders to determine how to make our products the ideal fit for the U.S. market.
KBR: So, what were those gaps? Can you explain some of the "shifts" you had to make when moving to the U.S. market as a result of what you uncovered? How do the needs of U.S. consumers differ, and how did this impact your product offering and strategy?
ZACH ELKIN (ZE): The design considerations for appliances are a bit different from Europe to the U.S. European consumers prefer smaller, more compact, fully integrated appliances, while in the U.S., this is usually not the main design preference. In both the U.S. and worldwide, however, the ergonomics, haptics, and innovative features of our products are important design and selling points. We strive to provide top-level products that exceed expectations for both performance, design aesthetics, and we focus on consumers health and wellness – that's where the need really arose. As our consumers interact multiple times per day with Beko products, everything we can do from an engineering, design, technology perspective to improve health, wellness and sustainability is an advantage and differentiates us from others.
KBR: Can you explain some of that focus on the health and wellness advantages of your products? What are some of the benefits in terms of sustainability?
SB: Beko has made sustainability a business model – everything in the design of our products is intended to promote the health of individuals as well as the planet. For example, to help tackle the problem of food waste, Beko developed an Everfresh+ with active blue light technology in the refrigerators capable of preserving fruits and vegetables fresh for up to thirty days. This technology helps the continuation of photosynthesis inside the humidity and temperature-controlled crispers and enables the nutrients stay inside the fruits and vegetables for enhanced freshness.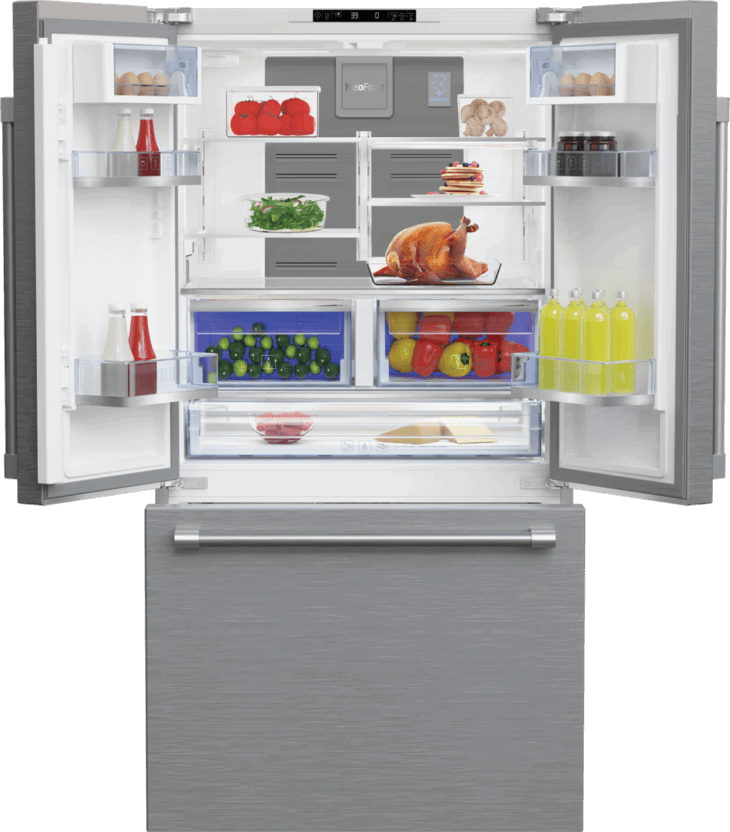 ZE: In the United States, unfortunately, we have a major problem with food waste. The Food and Drug Administration (FDA) reports that 30-40 percent of food is wasted or thrown away without being eaten. Discarded food then ends up in landfills. The money, labor, and resources used to produce and purchase that food is in a sense discarded as well. Sustainability is at the core of our DNA at Beko, and the pandemic provides new opportunities and incentives to conserve. Products like the Everfresh+ with active blue light technology not only help consumers save money but have a positive impact on the environment.
SB:  In addition to reducing food waste that Zach is talking about that harms the environment, consumers want to save money. So by keeping their produce fresh for longer, that's exactly what happens. These kinds of innovations define Beko's vision for producing sustainable, cutting-edge products.
KBR: What about universal design…living in place…issues like that? We hear home gyms are the thing because of COVID-19.
ZE: One of the things I learned while working at other brands, is that 100 million people in the US. have back issues. Just think about that for a moment from a health and wellness issue. Anything that we can do to make it easier to utilize your home appliances will help and support health and wellbeing. At Beko, we are committed to develop products for all consumers for health, wellness, and universal design.
KBR: How have your new product innovations with that focus on health and wellness – what is your tagline, "Live like a Pro" – how do those innovations translate into the U.S. market? Do consumers have different requirements and concerns and realize what you are trying to do?
SB: That's an interesting question. Look at it this way: Anyone has what it takes to live like a pro, but we often need to make some changes. Like eating healthier…redirecting our focus. Beko's redirection on uncovering the gaps in behaviors with appliances brought that out in a big way. Our appliances work quietly in the background to help people live and enjoy life in comfortably, live like a pro… all while conserving the world's energy at the same time. You know as well as I do that this is the age of the customer…the driving force is the consumer. Beko listens, and then answers with the solutions they've been asking for. Companies talk the talk about being on the side of the consumer. Beko lives it through their innovation.
ZE: Let me add to what Sazi said by pointing out that in the U.S., where consumers prefer more spacious appliances, they tend to use appliances a bit differently. For example, U.S. households typically have more than one refrigerator/freezer – perhaps one is kept in the basement and another in the garage. Refrigeration usually consumes at least thirteen percent of a home's electricity bill, so you can imagine that with multiple freezers the costs add up quickly. The need for more energy-efficient performance, led Beko to develop a new, CES award-winning freezer that is designed to cool in extreme temperatures, all the way from 5°F to 109°F. This freezer consumes less than one kilowatt of power in a day, meaning that it only costs about twenty cents per day to operate at the maximum. Improving the performance of the product not only saves our customers money, but it also gives the planet a break, too.
SB:  We looked at consumers and noticed that the U.S. freezer business didn't evolve since frost-free technology. We uncovered this multiple freezer trend and wanted to add excitement to the product, so we added an ice maker to the freezer. Need ice? Just take one of the larger drawers from the freezer up to the ice maker and you'll never need another bag of ice.
ZE: We substantially reduced number of components it takes to build our products – which is another sustainability move. Beko just didn't just create a strategy; we're executing on it with every move we make.
KBR: That's really making a statement, isn't it? So does your company's strategic plan involve the design community as you build your brand in 2021 and beyond? Our readers are comprised of many designers, and they'd like to know how they fit that strategy.
ZE: As we grow the brand, Beko is committed to collaborating and interfacing with the design community. We have robust plans in 2021 and beyond to build out the tools necessary to support designers the way they want to be supported. While establishing distribution is our first priority, we'll simultaneously actively engage and seek guidance from design community on every product that we design and launch.
Over the past two decades, Beko has focused on innovation to make customers' lives more convenient and healthier. The ease of use and practical technologies of Beko products has made Beko the fastest growing brand in the European market.
Beko has been in US market more than four years and innovates products for supporting customers' wellbeing, whether it's keeping the food fresh for longer time or putting the beautiful design & quality within reach.