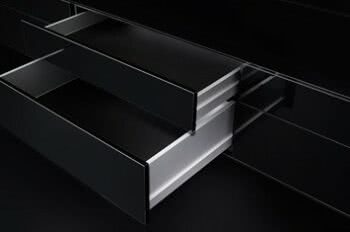 What's driving the shift to metal kitchen cabinet drawers?
Blog contributed by Grass America.
Look inside the U.S. kitchen cabinet industry and you will see that a fundamental change has taken hold. A long-term trend over the past decades has been accelerated in response to the dramatic events of the past year: double-wall metal drawers have begun to overtake traditional wood drawer construction as the style of choice for both customers and manufacturers of mid-market and high-end kitchens.
For consumers, metal drawers ideally fit the aesthetic tastes and functional expectations of the Millennial generation, the demographic that increasingly dominates the home buying and interior design landscape. At the same time, U.S. cabinet manufacturers are recognizing that metal drawer construction methods afford significant production efficiencies—advantages long understood by European manufacturers—that have become critically important during the recent labor shortages.
The shift to metal drawers is an interesting story of convergence. Convergence of aesthetics and functionality. Convergence of consumer tastes and manufacturer economic interests. And convergence of long-term trends and short-term conditions.
Consumer Drivers: Aesthetics and Functionality
Last year, the 72 million Millennials surpassed Baby Boomers as America's largest generation. Defined as adults who are age 25-40 in 2021, this generation is characterized by distinct preferences and buying patterns. In the kitchen, they gravitate towards European-style construction and design, with its cleaner look, straight lines, and smooth surfaces uninterrupted by knobs, pulls, or decorative embellishments. Typically living in smaller spaces, Millennials tend to value efficiency, ergonomics, and functionality as highly as visual appearance.
Annually surveying kitchen cabinet trends at the KBIS and IBS trade shows, Woodworking Network magazine found that for the first time, in 2018, European-style frameless construction took the top spot with 47 percent of all the kitchens on display. Full-overlay, face-frame construction, at 44 percent, is a kind of construction that outwardly can also look like frameless. Traditional face-frame construction with less than full-overlay doors trailed at only 8 percent. While these numbers do not represent market share, they give an indication of manufacturer's projections of where the market is headed.
Double-wall metal drawers are an integral part of this European-style kitchen, naturally complementing the sleek, minimalist look and feel, visually reduced to the bare essentials, while offering maximum functionality, stability, and performance. The bottom of the double-wall metal sides is designed to conceal the mechanics, leaving a clean, flat appearance consistent with the cabinetry as a whole.
The latest designs of metal drawer systems further enhance the qualities that attract consumers to this European design. The Nova Pro Scala, for example, recesses the upper part of the drawer side to allow manufacturers to apply a custom designer panel, flush with the lower part, to match or complement the material of the drawer front, for an elegantly harmonized overall impression. This capability gives cabinet designers unlimited opportunities to offer a distinctive mix of surfaces and textures that is characteristic of high-end modern kitchens.
Double-wall metal drawers also provide many functional and performance benefits. The latest designs have side walls set at 90° with tight corners for optimal use of space and storage of square objects, as well as accessories such as internal dividers.
Another advantage is long-term reliability. Metal drawers are easily adjustable to maintain proper alignment, and they are resistant to moisture and thermal fluctuation; therefore, they don't warp like wood construction during transport or long-term use.
Metal surfaces are also more hygienic and cleanable than porous surfaces like wood, attributes that are more valued today. Some double-wall drawer systems feature a drawer front that can be installed and removed without the use of tools, further facilitating easy cleaning.
Manufacturer Drivers: Efficiency and Flexibility
The market adoption of metal drawers has increased demand. But in addition to consumer market pull, manufacturers have their own internal incentives for converting, including manufacturing efficiency, and flexibility and design freedom.
Indeed, the shift from wood to metal drawers can represent a paradigm shift for the manufacturing process. Lead times for externally-sourced wood drawer boxes have crept upward in recent years, and metal drawers provide a completely different production model enabling manufacturers to take control of the building process. Double-wall metal drawers are modular systems, only requiring manufacturers to stock a limited number of different parts that can be used interchangeably for drawers of different types and sizes.
With metal drawers, cabinet manufacturers avoid reliance on drawer box providers, with the susceptibility to delays, the headaches of incorrect sizes, and the frustration of not being able to quickly respond to customer requests for changes or replacement of product damaged in transit.
Metal drawer systems are engineered to be easy and quick to assemble. The Nova Pro Scala, for example, was designed as much for the needs of the manufacturer as for the needs of customers. Whereas the average shop produces between four and six drawers per hour, a Nova Pro Scala drawer can be built every four minutes or less.
A number of factors contribute to the ease and speed of assembly of the Nova Pro Scala. The flat material only needs to be cut to the required dimensions, without the need for dado cuts, and the width of the bottom and back panel are the same. Importantly, only four metal components need to be attached to construct each drawer. Also, essential to ensuring high production efficiency and consistent quality is the availability of installation and assembly machines, jigs, clamps and other aids engineered for the various needs of production facilities ranging from small carpentry shops to high volume cabinet manufacturers.
For these reasons, cabinet manufacturers are catching up to U.S. consumers who are well on their way to catching up with their European counterparts in thinking outside of the box, the wood drawer box, that is.
About Grass America
Grass America is a quality-driven manufacturer of hinges, drawer slides, lifters, and drawer systems. The company's first-class movement systems keep America's kitchens, baths, and office facilities operating at their best. Grass America's manufacturing facility in Kernersville, North Carolina, sells functional hardware and accessories throughout the US, Canada, and Mexico via 130 distributor locations and to most of the leading kitchen cabinet manufacturers. The company is proud that its employees come from all over the world and often reach more than 30 years of experience. Choose Grass as your reliable partner in business for functional hardware. Learn more at www.grassusa.com.