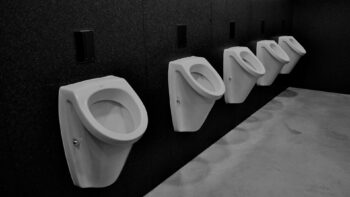 A "Stand Up" Fixture
In the 2010 ADA Standards for Accessible Design, September 15, 2010 reference to urinals is in Advisory 605.1 General Urinals. The section is located under 605 Urinals.
Advisory 605.1 General simply states that stall type urinals provide greater accessibility for a broader range of people, including people of short stature. The floor-mounted, stall-type urinal is recommended as it accommodates people of all sizes, suggesting that type of installation over wall-hung urinals.
Advisory 605.2 Height and Depth states that urinals shall be the stall-type or the wall hung type with the rim 17" maximum above the finished floor or ground. Urinals shall be 13-1/2" deep minimum measured from the outer face of the urinal to the back of the fixture.
There are no other references to "urinals" directly in the standards except for Section 305 Clear Floor or Ground Space, which then references Section 302 Floor and ground surfaces shall be stable, firm, and slip resistant. (Although section 213.3 states that where more than one urinal is provided, at least one shall comply with section 605).
605 Urinals reference 605.4 Flush Controls states flush controls shall be hand-operated or automatic and comply with Section 309. Section 309 continues to section 309.4.
309.4 Operation. Operable parts shall be operable with one hand and shall not require tight grasping, pinching, or twisting of the wrist. The force required to activate operable parts shall be 5 lbs. maximum.
As of this writing, there were over 3,201 projects with urinals and ADA restrooms in the specs. A small portion contain a specific manufacturer, the field is open to manufacturers and engineers to come in with "basis of design" or position their urinals as THE one for ADA restrooms.
Often when specifying urinals for ADA restrooms, the wording is general such as "provide ADA compliant urinal." Surprisingly, ADA urinals are most often specified under two divisions: Plumbing and Specialties. Sometimes the specifications state a specific manufacturer or manufacturer list. At this writing, there were 610 projects within the Plumbing Division and 219 projects within the Specialty Division that specified ADA toilets for this year in ConstructConnect. Although many contain a specific manufacturer(s), the there is room for product manufacturers to become a basis of design or position their urinal as THE ones for ADA restrooms.
Type of Urinals
Urinals come in different designs and shapes, manual or sensor-operated, water-flushed or water free (cartridge type). Urinals are normally wall-mounted, but stall-mounted are preferred for versatility of use by the ADA.
NOTE: There seems to be no reference to waterfree or waterless urinals in the ADA Standard. It is accepted in the standard that a urinal uses water to flush. Also, there is no reference to sensor-operated urinals accept the handle pressure stated in 309.4 Operation.
Manufacturers
There are notably three major manufacturers of urinals for ADA restrooms and standard restrooms.
American Standard. For 150 years, the brand has innovated and created products that improve daily living in and around the bathroom and kitchen for residential and commercial customers. American Standard is part of LIXIL, a global leader in housing and building materials products and services. You will find four urinals listed as ADA compliant on their website.
Kohler. Founded in 1873 and headquartered in Kohler, Wisconsin, Kohler Co. is one of America's oldest and largest privately held companies comprised of nearly 38,000 associates. With more than 50 manufacturing locations worldwide, Kohler is a global leader in the design, innovation and manufacture of kitchen and bath products; engines and power systems; luxury cabinetry and tile. You will find 22 urinals listed as ADA compliant on their website.
TOTO. TOTO USA is headquarters for the Americas Division of the TOTO Global Group, which was established in 1917 with the founding of TOTO, Ltd., in Kitakyushu, Japan. TOTO is the world's largest manufacturer of bathroom fixtures and fittings. For the past 100 years, TOTO has been the recognized leader in innovation, technology, performance, and design with products that enhance the luxury bathroom experience. You will find eight urinals listed as ADA compliant on their website.