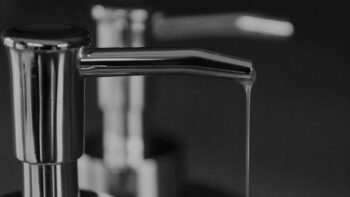 Grasp Should Exceed Reach
In the 2010 ADA Standards for Accessible Design, September 15, 2010 reference to soap (and towel) dispensers is in Advisory 606.1 General, Lavatories and Sinks and references 308 Reach Ranges. The section is located under 606 Lavatories and Sinks.
There are no other references to "soap" or "soap dispensers" in the standards except for referencing the "reach" by different age groups and an unobstructed forward high reach of 48" and a low reach of 15" mentioned in Advisory 308.1 General. It states an obstructed high reach should be 34" maximum and a depth of 24".
Remember that "Advisory Notes" are provided for informational purposes only and are not necessarily mandatory. Advisory notes try to clarify the meaning of a requirement or provide recommendations for good practice.
The ADA standard tells us "reach" is the most important factor in installing soap dispensers to be used by children and people in wheelchairs. The consideration of placement of a soap dispenser is the designers or contractors choice based on reach. The standard does not currently specify manual or automatic dispensing.
Generally, soap dispensers will fall under the specification category of "Automatic Liquid Soap Dispenser" or "Automatic Soap Dispenser." Sometimes the wording might be like:
"Automatic dispenser with infrared sensor to detect presence of hands; battery powered, designed for dispensing soap in liquid or lotion form."
"Basis of Design Product: subject to compliance with requirement."
"Soap Dispenser: Automatic Counter-Mounted Foam Soap Dispenser shall dispense controlled amount (0.8m) of Soap."
There appears to be no restriction for the wall mounted manual dispensers except for "reach" and height.
Recently, ConstructConnect™ listed over 4,292 projects of soap dispenser placements based on "reach" for ADA restrooms. Only a few mentioned a manufacturer. The field is wide open to position for someone to position their dispensers in this uncontested market area.
Types of Soap Dispensers
Soap dispensers come in manual or sensor-operated and dispense lotion or antimicrobial soap or disinfectant or foam and are manufactured by roughly 25 companies. Soap refills can come in cartridges or bags. Soap dispensers are normally wall mounted but can be deck mounted singly or in a combination of faucet and soap dispenser.
Manufacturers
There are numerous manufacturers of soap dispensers for ADA restrooms and standard restrooms.
Bradley Corporation. Bradley is one of the most complete and advanced manufacturers of commercial washrooms and comprehensive solutions for emergency, safety, and industrial applications. You will find 32 ADA compliant soap dispensers on their site including the new Verge ADA soap dispenser line on their website.
Bobrick Washroom Equipment, Inc. Bobrick is a recognized name in well-designed, value-oriented restroom accessories and toilet partitions. You will find over 30 soap dispensers when you search for "soap dispensers" on their website including 9 of their designer models including B-852 designer series on their website.
Stern Engineering. Stern offers a comprehensive range of products with state-of-the-art electronics for the complete automated bathroom experience and has worldwide network of local agents and distributors in over 80 countries. Stern is committed to green building and to providing smart water solutions that maximize water efficiency and achieve LEED points. There are 12 models including the Behind the Mirror soap dispenser on their webiste.